Quadruple amputee on run from police over double murder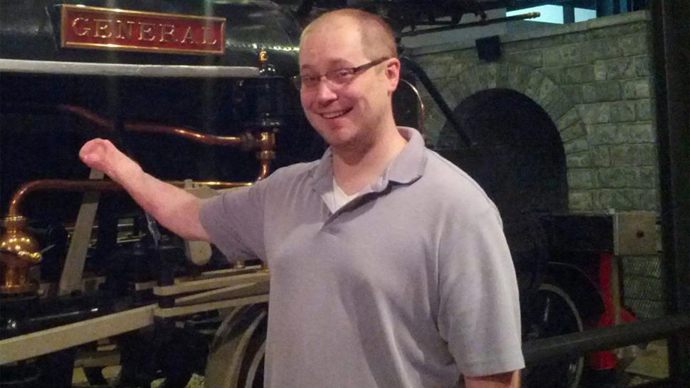 Sean Petrozzino, a quadruple amputee, has been on the lam since Tuesday after police named him a "person of interest" in the fatal shootings of his parents in their Orange County, Florida home.
Petrozzino, 30, is sought for questioning after his parents, Nancy and Michael Petrozzino, whom Sean was living with after separating from his wife, were found dead on Tuesday, leading to the search for their son and his red Toyota Camry, according to the Orlando Sentinel.
Authorities believe Petrozzino, not yet considered a suspect in the murders, is armed and dangerous.
"We want him to get in here and talk to us so we can find out what happened, since he was apparently living with his parents," said sheriff's spokeswoman Jane Watrel at a news conference Wednesday.
Petrozzino's hands, feet, and parts of his limbs were amputated 14 years ago after he contracted bacterial meningitis. He now wears prosthetic legs, according to law enforcement.
"I've known Sean since he was 16 years old," his mother-in-law, Cathleen Horne, told the Sentinel. "This just seems bizarre. It seems like a bad dream."
Nancy Petrozzino, 64, a longtime educator, had been a second-grade teacher at Andover Elementary School since 2007. Michael Petrozzino, 63, was a cast member at Disney World.
Their bodies were discovered after school officials called authorities once Nancy did not show up for work.
Sean Petrozzino received attention in 2000 for his positive attitude in the face of bacterial meningitis.
"Lots of important things in life just happen by chance," Petrozzino told the Sentinel in 2000. "You know someone and get a job that makes you millions of dollars. Or you get a disease. There doesn't seem to be any reason some things happen."
"I don't want anyone to feel sorry for me," he added. "As much as I feel bad about what happened, I feel good that my family and all my friends stood by me."