Maryland teen too drunk to carry out school massacre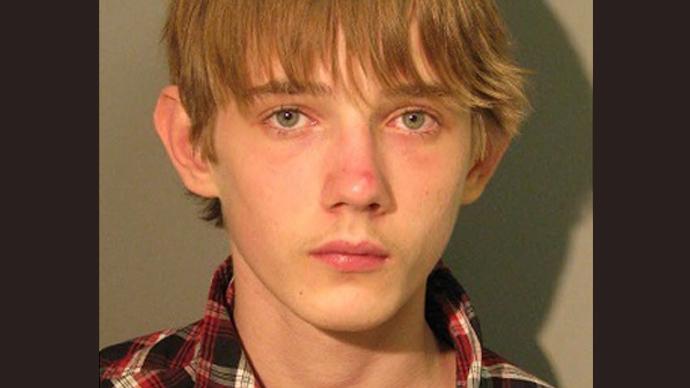 A Maryland teenager planned a school shooting, brought a stolen gun to school and decided not to use it because he was too drunk. He turned himself in to police the next day, when they questioned him about an unrelated crime.
Alexander "Sash" Nemphos, a 16-year-old sophomore at a Baltimore-area high school, wrote in his journal that he planned to kill his parents, as well as students, teachers and a police officer at the George Washington Carver Center for the Arts and Technology on Halloween. Instead, he was arrested at home on Saturday.
"Alexander stated that he had intended to go through with his plan on Halloween (10/31/14) and had in fact taken the firearm to school in his backpack, but remembered that he did not have the bombs, so he did not go through with the plan. He stated that he drank whiskey prior to going to school and was too intoxicated to carry out the plan. He stated that he was going to try again on Monday (11/03/14). This time he was not going to drink so he could carry out his plan without being impaired," Baltimore County Police Officer Tim McLaughlin wrote in the charging documents.
Artist, Sash Nemphos, 16, charged as an adult for 'school shooting plot' in Maryland http://t.co/xAgEyjqTG0

— john muriango (@juanmuriango) November 4, 2014
The plot was uncovered after the police officer questioned the 16-year-old about robberies from cars in the parking lot of a local restaurant Saturday.
All three robbed cars in the Monkton Grille parking lot were unlocked, and one of the vehicle owners gave a description of a young boy on the property during the timeframe that the thefts occurred. The victim said the boy was "possibly homeless, a small white male with blonde hair in his early teens" who has been seen in the area before, "begging for food or cigarettes."
The Baltimore County cop then went to a nearby 7-Eleven store, where someone said that a boy matching that description sometimes came into the store, attempting to buy cigarettes. "The subject stated that he once observed the boy get into an unknown vehicle with an adult, so he took a picture of the tag on this vehicle," the responding officer wrote. The license plate was registered to Nemphos' father.
McLaughlin then went to the Nemphos home, where he spoke with the suspect ‒ who "fit the description perfectly" ‒ and his parents. "Alexander Nemphos was clearly intoxicated and a strong odor of alcohol was about his person," the officer wrote. The high school sophomore denied stealing from the vehicles, but said instead he spoke to a "kid" earlier in the day who had admitted to the crime. When pressed, Nemphos confessed, and gave McLaughlin the stolen property.
Police say the gun Sash Nemphos planned to use for a school shooting was taken from his father's work @cbsbaltimorepic.twitter.com/NLItIspgxI

— Tracey Leong (@TraceyWJZ) November 4, 2014
"At this time, Edward Nemphos [the father] took me aside and advised me that his handgun had been stolen at his place of business in Baltimore City several months ago, and he was worried that Alexander might have something to do with it," McLaughlin wrote. The teenager denied having the gun, but eventually confessed to having stolen it as well.
"I asked Alexander what he was going to do with the gun, and he stated that he was going to kill his parents with it and then drive to school (Carver Center) and shoot the school police officer and then take the officer's gun and ammunition and kill as many teachers and students as he could. He then stated that he had made several bombs and was going to blow up the school," McLaughlin continued. Nemphos had written his plans, as well as a suicide note, in his journal.
Nemphos told the police officer that "he would shoot anyone who attempted to thwart his plan, and students who have bullied him in the past. Alexander advised that he has been bullied for several years and has told teachers, but nothing has ever been done to stop it."
#BCoPD Chief : the officer in this case did an exceptional job .... we intervened in what could have been an extremely serious situation

— BACO Public Safety (@BACOPoliceFire) November 3, 2014
But school officials said Nemphos never displayed any signs of trouble.
"At this point, nothing has been shared with us [from the school] to give us any indication that this could have happened," Maria Lowry, the administrator in charge of Baltimore County high schools told the Baltimore Sun. "We had no reason to suspect we had an issue."
Another student disputed that Nemphos was bullied.
"It is recognized that every individual in the school is worth something, and is a person and is as important as anyone else in the community. No one is ever put down in the school," Ron Anahaw, a 17-year-old senior studying literary arts at Carver, said. "Because there is such a diversity of talent, it is strange that anyone would want to defeat all that."
A woman who has lived across the street from Nemphos and his family for nearly 20 years described the suspect as a "sweet and kind-hearted" boy who was a gifted artist.
"That's why this is difficult, because it's just kind of hitting everybody - it's just not expected. I just hope that whatever's happening, he's going to get what he needs," Regina DeSantis told WBAL-TV.
Nemphos was originally charged as a juvenile, but has been waived to adult status in the court system, according to the Baltimore County Police Department. He is charged with possession of a destructive device, possession of a dangerous weapon on school property, theft and a handgun violation, according to authorities. The 16-year-old is being held without bail at the Charles H Hickey School, a juvenile detention center outside Baltimore.
Boy who was arrested after explosive devices and a gun were found in his home Saturday is now charged as an adult. http://t.co/Gv5maWnTqh

— BACO Public Safety (@BACOPoliceFire) November 3, 2014
The arrest came eight days after a shooting in Marysville, Washington, in which a student opened fire in a high school cafeteria, killing three and wounding two others before committing suicide.