'Landmark event': F-35C successfully lands aboard aircraft carrier (VIDEO)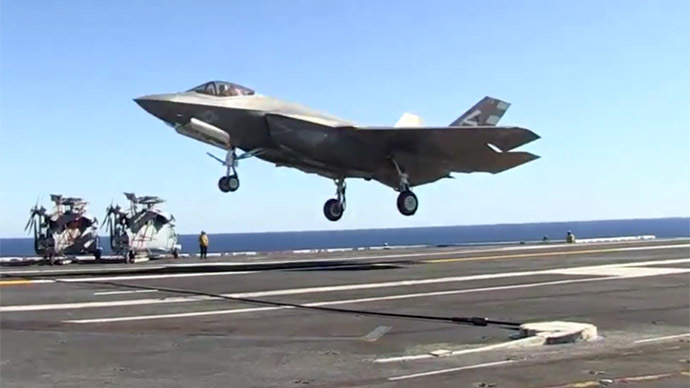 The US Navy's most expensive plane, the F-35C Joint Strike Fighter, has finally made its first ever recorded landing on an aircraft carrier, the USS Nimitz in San Diego, the military has announced.
Cmdr. Tony Wilson, a 43-year-old Navy test pilot, made the first landing. "The aircraft handled phenomenally. I couldn't make it go off the glide slope, it was that smooth of a jet," Wilson told reporters assembled on the Nimitz. The fighter successfully landed aboard the aircraft carrier by catching the third of four cables stretched across the deck.
"We're excited to have taken this step," said Vice Adm. David Buss. "We're going to use this event today...as a springboard into our future."
The Lockheed Martin F-35 Lightning II is a single-seat, single-engine, all-weather stealth fighter. The fifth generation combat aircraft is designed to perform ground attack, reconnaissance, and air defense missions.
READ MORE:Money for nothing? Boeing says F-35 isn't so stealth after all
"The F-35C combines advanced stealth with fighter speed and agility, fused targeting, cutting-edge avionics, advanced jamming, network-enabled operations and advanced sustainment. With a broad wingspan, reinforced landing gear, ruggedized structures and durable coatings, the F-35C is designed to stand up to harsh shipboard conditions while delivering a lethal combination of fighter capabilities to the fleet," the Navy said in a statement.
READ MORE:Navy cuts F-35 order nearly in half
Monday's success was the first of 14 days of testing taking place about 40 miles off the San Diego coast. DT-I is the first of three test phases scheduled for the F-35C. Following the tests, the Navy will be advised to make any adjustments necessary for the aircraft's full deployment to the fleet in 2018.