Two models of Chinese 5th-Gen fighter in works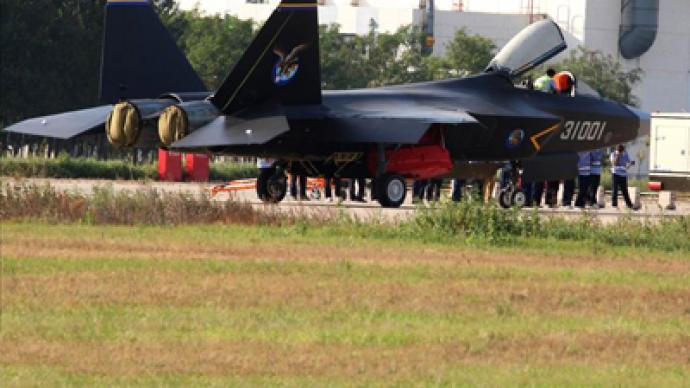 The Chinese military has leaked first photos of a brand new lightweight fighter with external characteristics that allow the jet fifth-generation attribution. Some pictures suggest it could be used on future Chinese aircraft carriers.
Shenyang Aircraft Industry Group (SAC), one of the leading aircraft design and manufacturing corporations of China's aviation industry, has rolled out a prototype that might eventually become Chinese analogue to America's F-35.The aircraft bears a certain resemblance to Lockheed Martin's F-35 Lightning II, and even reportedly has the codename F-60. Though absolutely no characteristics of the prototype have been unveiled, one major difference is obvious: unlike its American relative, China's F-60 has two engines.The pictures of the Chinese technology demonstrator suggest that the engines the aircraft is currently equipped with do not have thrust vectoring nozzles which might suggest the prototype is at too early a stage of testing to get more sophisticated and powerful propulsion package.Inclined twin vertical tail and wide-spaced ram air inlets are reminiscent of Lockheed Martin's F-22 Raptor Joint Strike Fighter.A blurred photo from China Military Report website is the only proof that SAC's F 60 aircraft has successfully been airborne.
Now it has become obvious that in the race for possession of fifth generation aircraft the Chinese military placed its bets on two horses: Chengdu Aircraft Corporation, which is heavily testing its J-20 "Mighty Dragon" fifth generation heavy fighter-bomber, and Shenyang Aircraft Industry Group with its F-60 lightweight fighter.The F-60 prototype jet bears the side number 31001, which may be a reference to Chengdu's J-20 heavy fighter jet. The first two J-20 prototypes have "2001" and "2002" side numbers respectively.Yet, the F-60 and J-20 are not likely to be regarded as competitors because it appears the aircraft will have different specializations.
China's future sea-based fighter jet
China's first aircraft carrier, dubbed Shi Lang, laid down by the Soviet Union in the late 1980s and almost finished now by Chinese engineers, is expected to be put into service by the end of 2012. Still, Beijing has informed the warship will be not ready for action till 2017.
The People's Liberation Army Air Force (PLAAF) already has fighter jets to form the aircraft wing for Shi Lang. China produces J-15, a copycat of the Soviet-made Su-33. The J-15 copycat has been made by Shenyang Aircraft Industry Group. But the Su-33 was designed in the 1980s and cannot be regarded a proper sea-based aircraft in the 2010s. Probably since SAC already proved it can make a sea-based aircraft, Beijing commissioned a great challenge of creating a fifth generation fighter jet for naval use to this corporation.Chinese Military Review website has published computer-generated images of the F-60 fifth generation fighter jet in action with a whole range of various air to air missiles. On at least two pictures the aircraft is depicted with an extended arrest hook that the sea-based aircraft use to stop after landing on the deck of an aircraft carrier.
The two-wheeled front rack chassis of the real F-60 prototype also suggests the aircraft is being engineered for naval use, like sea-based versions of Dassault's Rafale in France, Lockheed Martin's F/A-18 E/F Super Hornet and the Soviet-made Su-33. At the same time there are no signs the prototype is capable of short take off and vertical landing, which the F-35B STOVL version has.A brief look at the computer-generated images also exposes another feature the F-60 has in common with Lockheed Martin's F-35 Lightning II: an extremely limited space in the internal weapon bays. A stealth aircraft must have all of its weapons hidden inside the hull to decrease the aircraft's visibility to enemy radars. The Chinese F-60, just like the American F-35, can only carry small-sized short range missiles in true stealth mode.To get seriously armed the F-60 would have to carry long-range missiles externally, which would nullify its stealth capabilities. If so, the F-60 will have limited capabilities.Probably the biggest problem of the modern Chinese aviation industry is the deadlock with military jet engines it currently finds itself in. For both Chengdu's J-20 and Shenyang's F-60 there are no reliable Chinese-made jet engines with technical characteristics appropriate for a fifth generation fighter. Still, Chinese engineers are known not only for copycat efforts, but for outstanding persistence in achieving their objectives. It cannot be altogether excluded that by 2017, when the Shi Lang aircraft carrier will be commissioned and more warships of the kind be under construction, Chinese engineers will probably decrease or eliminate the dependence on Russian jet engines and spare parts and put the F-60 on a proper flight.
You can share this story on social media: