​#AlexFromTarget becomes viral sensation, takes over internet
Published time: 4 Nov, 2014 00:37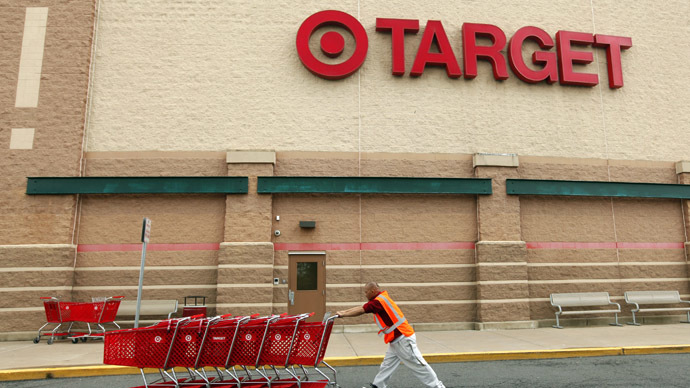 When the vast majority of teenagers take jobs bagging groceries at local retailers, the last thing they expect to achieve is viral internet fame. For "Alex from Target," his sudden popularity was met with equal parts surprise and total confusion.
Just one day ago, "Alex" was just a normal high school student toiling away as a Target employee. Now, he is a bonafide social mediasensationwith more than 400,000 followers on Twitter and a trending hashtag dubbed#AlexfromTarget.
Why did he get so famous? This is where it gets interesting (or just strange): No one has a clue.
YOOOOOOOOOO pic.twitter.com/eknsxBlx38

— rims (@auscalum) November 2, 2014
Around noon on November 2, Twitter user @auscalum posted a photograph of Alex – supposedly his real name – accompanied by the word "YOOOOOOOOOO." Alex was wearing a Target uniform and bagging groceries. Outside of the sleuthing done after the image went viral – apparently Alex attends a high school in Texas – there is virtually zero information known about him.
As speculated by nearly every media outlet, chances are that all Alex needed to attract a sizable following are his boyish good looks – something many have compared to teen heartthrobs in boy bands such as One Direction and 5 Seconds of Summer.
Wow #alexfromtarget to be knighted by The Queen pic.twitter.com/1EJRTedBSR

— Maggy (@maggyvaneijk) November 3, 2014
Over at Yahoo, Alyssa Bereznak wrote that Alex's explosive popularity is due to the idea that people – namely, in this case, teenage girls – can easily relate to or identify him as their own local crush working at a nearby chain restaurant or retailer.
"Our guess is that the handsome cashier at your local Starbucks/Michaels/Dunkin' Donuts/Jamba Juice is a topic of conversation that comes up quite often, especially in small local communities," she wrote.
#AlexfromTarget has spawned various offshoots such as "Kieran from T-Mobile" and "Steve from Starbucks."
i was once a fan of #alexfromtarget but i moved on to bigger and better things aka #kieranfromtmobilepic.twitter.com/1iqOzSzrj1

— AmberFromTmobile (@eroticmendes) November 3, 2014
Rt for #stevefromstarbucks Fav for #alexfromtargetpic.twitter.com/IFFlKj3R2y

— amanda (@bangerznash) November 3, 2014
Still, the sheer longevity of the intense social media outburst is impressive. The hashtag alone has generated more than one million tweets in a day or so, and it's still trending currently. With Target itself acknowledging the situation, it has spawned speculation among more cynical users that the whole thing is a giant public relations stunt.
"Imagine our surprise yesterday when one of our Target team members managed to flood the Internet with images of red and khaki without even trying," Molly Snyder, a Target spokesperson, told the Huffington Post. "We are proud to have a great team, including #AlexFromTarget."
Whether or not Alex from Target sustains his popularity into the week, though, remains to be seen.
I pledge allegiance, to #alexfromtargetpic.twitter.com/SCyw2DUqTD

— mary juwana (@camfuxme) November 3, 2014
We heart Alex, too! #alexfromtargetpic.twitter.com/LvA7qc5RfS

— Target (@Target) November 3, 2014