Obama's unpopularity might cause record losses for Democrats in Midterms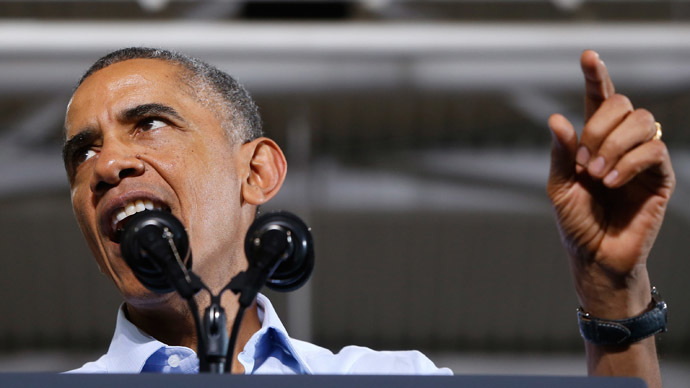 If President Barack Obama were on the ballots on Tuesday, he would not fare very well, as a near-record-high number of Americans view him unfavorably. And his unpopularity could negatively affect Democrats' chances in Tuesday's midterm elections.
Half of Americans have an unfavorable impression of the president, with 44 percent viewing him favorably, according to a new ABC News/Washington Post poll. His unpopularity is even worse ‒ 53 percent ‒ among likely voters. Last November, Obama's unfavorables hit a record-high 52 percent among Americans. And the six-point difference between those who see him favorably versus unfavorably is the worst the president has ever faced.
Gallup polls mirrored the ABC News/Washington Post findings. The daily tracking poll had Obama's approval rating at just 40 percent, down three points from Thursday. His disapproval rating held steady Sunday at 54 percent.
map
"It's worth noting that in many battleground states where control of the Senate will be won or lost, Obama's poll ratings have been even worse, providing a significant drag on his party's prospects," Roll Call noted. "Obama could set a modern record for midterm-election losses dating back to President Harry S. Truman."
Republicans around the country seized on the president's unpopularity as they campaigned during the last weekend before the midterm elections on Tuesday.
"This is really the last chance for America to pass judgment on the Obama administration and on its policies," Mitt Romney, the GOP's 2012 presidential nominee, said, according to the Associated Press.
For his part, the president is asking voters to reject the Republicans' cynicism as he stumps for Democratic candidates.
"Despite all the cynicism America is making progress," Obama said, imploring Democrats to vote on Tuesday. "Don't stay home. Don't let somebody else choose your future for you."
Control of the Senate is at stake in the midterm elections. In the 113th Congress, the Democrats held 53 of the 100 seats, with two independent senators caucusing with the party. There are 33 seats contested in 2014, with an additional three special elections, for a total of 36 races. Those seats are currently held by 21 Democrats and 15 Republicans. "Historically, presidential approval correlates highly with midterm losses for an incumbent president's party," Langer Research, the company that conducted the ABC News/Washington Post poll, noted.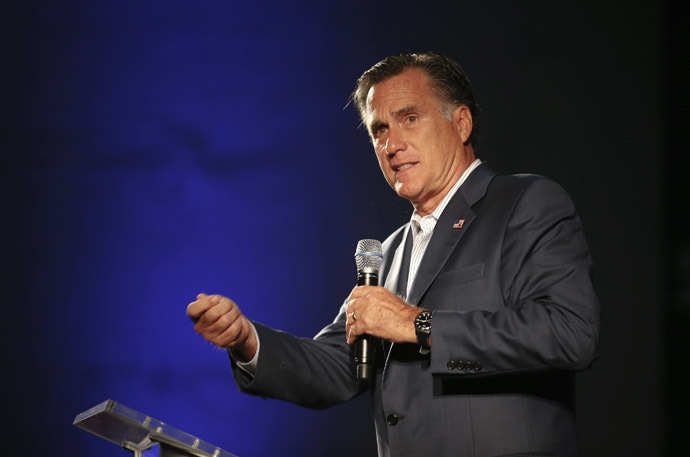 Nate Silver at fivethirtyeight.com predicts that the Republicans are slightly favored to take control of the legislature's upper chamber.
"Republicans have great opportunities in a number of states, but only in West Virginia, South Dakota, Montana and Arkansas do we rate the races as clearly leaning their way. Republicans will also have to win at least two toss-up races, perhaps in Alaska, North Carolina or Michigan, or to convert states such as New Hampshire into that category," Silver wrote. "And they'll have to avoid taking losses of their own in Georgia and Kentucky, where the fundamentals favor them but recent polls show extremely competitive races."
Obama's unpopularity among Republicans – at 84 percent – exceeds his popularity among Democrats – at 78 percent. Independents tilt negative by a 55-38 margin, the latest poll found.
As Americans take to the polls on Tuesday to cast ballots during the 2014 midterm elections, RT will provide its audience with an alternative look at some of the races you'll be hard-pressed to hear about elsewhere.
RT will broadcast live Election Day coverage on November 4 starting at 4 p.m. ET from its various United States bureaus in order to bring our viewers up-to-the-minute updates from coast-to-coast as voters decide on issues ranging from marijuana decriminalization to the future of fracking, as well as what politicians will be picked to serve in Congress during the coming years.
While mainstream media channels will be busy counting Senate seats and projecting which of the two major parties will control the upper chamber of Congress, RT America offers a different view on the midterm elections. Tune in to RT on Tuesday evening to catch live reports from locations including Oregon, where voters will weigh in on a bill that could require genetically-modified foods to be labeled as such,and sunny Florida, where Libertarian gubernatorial hopeful Adrian Wyllie will discuss his efforts to provide residents with an alternative to the Republican/Democrat dichotomy this Election Day by way of a third-party run.