NYPD arrests, 'brutalizes' peace activist McGovern ahead of Petraeus speech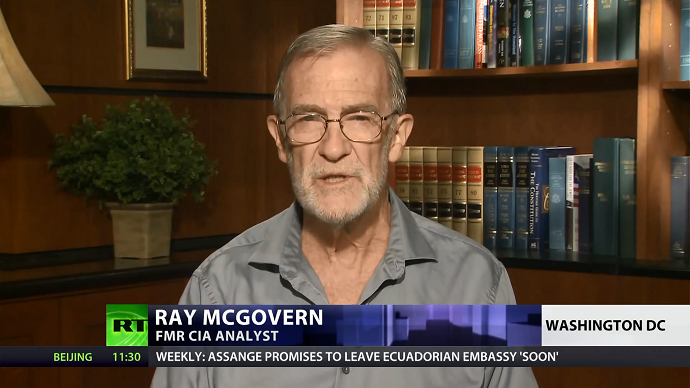 The New York Police Department has detained prominent peace activist and former CIA agent Ray McGovern, with witnesses saying he was "yelling in pain" during arrest. McGovern was detained ahead of a David Petraeus speech that he planned to attend.
UPDATE:Ray McGovern describes brutal arrest at Petraeus event
McGovern was detained before the start of a talk between former CIA director David Petraeus, retired US Army Lt. Col. John Nagl, and author Max Boot on American Foreign Policy at the 92nd St Y., an Upper East Side cultural community center.

Anti-war group 'The World Can't Wait' said the activist was arrested "at protest of speech." He was reportedly prevented by security from entering, charged with criminal trespass and disorderly conduct, and will not be arraigned until Friday. The group has called for McGovern's release on Twitter and Facebook.
@raymcgovern arrested & victim of #mynypd#policebrutality at @92Y for trying to speak out against #war crimes. pic.twitter.com/gn0Vihtoat

— World Can't Wait! (@worldcantwait) October 30, 2014
The World Can't Wait alleged on Twitter that McGovern was "brutalized" by the NYPD and later reported "screams coming from backroom" where the activist was being held. RT has contacted the NYPD who have yet to respond to allegations.
It appeared that the activist was detained even before entering the venue, despite having a ticket for the event.
Independent journalist and filmmaker Cat Watters was due to film McGovern during the talk, asking a question of Petraeus, but as she arrived she saw McGovern being arrested by police, telling them "I have a ticket!" Watters told RT that McGovern has a shoulder injury and was apparently yelling in pain during the arrest.
At #Petraeus speech #92nd St & #NYPD arrested @raymcgovern before event started. Taken to 19th Prct 212 452-0600 Call & demand his release

— Debra Sweet (@DSweetWCW) October 31, 2014
According to Watters, two members of World Can't Wait, which asked her to film, were to hang a banner from balcony written with the words "War Criminal Iraq Afghanistan" and covered with handprints in red ink - however, McGovern was not going to take part in this action.
"He [Ray] doesn't cause a ruckus. He asks questions. He stands up and turns his back," Watters described the protesters' plan.
McGovern is a former CIA officer turned political activist. He worked with the agency for just under three decades, retiring in 1990. He was highly critical and public about President George W. Bush's use of government intelligence in the lead-up to the Iraq war. In 2006, he returned his Intelligence Commendation Medal in protest against the CIA's involvement in torture.
You can share this story on social media: