Ray McGovern describes brutal arrest at Petraeus event (VIDEO)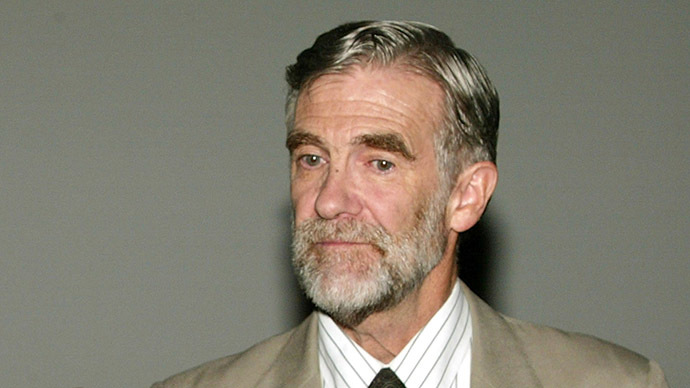 ​Ray McGovern, a former CIA analyst-turned-antiwar activist, shared details with RT on Friday about an incident the night before in New York City during which he was arrested for trying to enter a public event.
McGovern, 75, says he had ticket to see former CIA director David Petraeus speak Thursday night at the 92nd Street Y, a "world-class cultural and community center," according to its website, but was arrested before he could get inside.
"I was warned as soon as I got to the ticket-taker, 'Ray, you're not welcome here,'" he recalled to RT.
An adamant critic of the wartime policies of the current White House administration and that of George W. Bush, McGovern has previously been arrested while demonstrating at public events. Speaking to RT this week, he said he intended on asking a question to Gen. Petraeus during an advertised question-and-answer session following Thursday's event, but was forcefully removed by police before it was underway.
McGovern said he showed up at the event with a black-eye and a sore wrist, and had earlier been wearing a sling on his left arm to aid the injury. At the Petraeus event, however, he says police exacerbated those injuries by forcefully handcuffing him and then hauling him off to a local precinct where he was charged with resisting arrest, criminal trespass, and disorderly conduct. He says he then spent the night on a stainless steel cot.
"If you've seen the footage, you can see me screaming in pain as they try to pin my left wrist around behind my back," he told RT. He added that there was "lots of blood on my pants" as he was being arrested.
It was "very interesting," McGovern told RT, to spend the night in a local holding center "with people who are subjected to innocent suffering in New York City jails."
Indeed, McGovern had planned on having the night go drastically different. The former CIA analyst explained that he had hoped to ask Petraeus questions about the general's policies during the last war in Iraq, given that US troops have since returned to counter the Islamic State.
"Will you come out of retirement and try to do it better this time to train the Iraqi forces?" McGovern said he wanted to ask the former CIA chief.
"This is no saint. This is actually no great strategist," he said of Petraeus. "He's an embarrassment to the US Army in which I used to be proud to have served."
McGovern, who was previously placed on the State Department's Diplomatic Security "Be On the Look Out" (BOLO) list after demonstrating during a Hillary Clinton event in 2011, told RT that a hearing is scheduled for early December during which the status of the charges will be discussed.
"Very often something good could come out of these things," he optimistically told RT.
You can share this story on social media: