Manhunt for alleged cop-killer cancels Halloween in northeastern Pennsylvania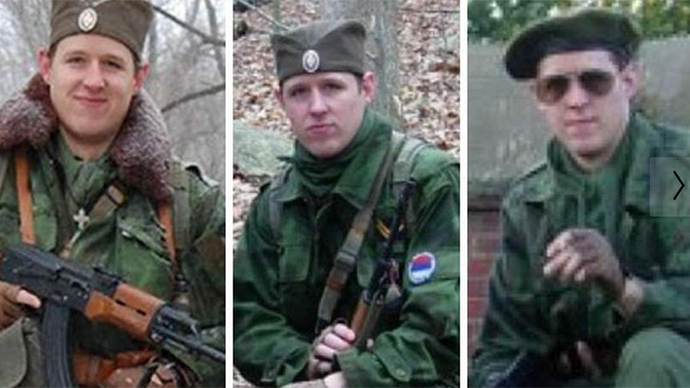 Halloween festivities have been canceled in a northeastern Pennsylvania community as authorities continue their search for accused cop killer Eric Frein.
Authorities in the Keystone State have so far spent more than six weeks on the lookout for Frein, 31, after he allegedly murdered a cop, Pennsylvania State Police Officer Bryon K. Dickson II, on September 12, and consequentially ended up on the FBI's Ten Most Wanted list.
While investigators continue to comb through the state searching for the man, however, their hunt has so far been unsuccessful and has now led to officials in rural Barrett Township to suspend Halloween activities.
The FBI considers Frein to be armed and dangerous, and is offering an award of up to $100,000 for information leading to his whereabouts. Federal authorities describe him as a "weapons enthusiast" and a "survivalist" with extensive training as a marksman and the know-how to navigate through the wooded areas where investigators believe he's been hiding since September.
"He has very strong feelings about law enforcement and seems to be very angry with a lot of things that go on in our society," State Police Commissioner Frank Noonan previously said of the suspect. Frein has also reportedly been involved in a Cold War re-enactment group and has claimed to have fought alongside Serbians in Africa, according to the FBI.
Among the holiday festivities canceled, the Associated Press reported this week, is what was scheduled to be the township's fiftieth annual Halloween parade last Sunday.
"The Halloween parade is a big, big, big deal," committee chairwoman Betty Oppelt told the AP this week. "This is not a rinky-dink parade."
Indeed, the magnitude of the event made it so that area officials became uneasy with regards to how it would coincide with the search for Frein. According to the AP, Oppelt said logistics would have presented problems because the parade attracts the likes of marching bands, floats and costumed revelers, as well as upwards of thousands of spectators.
"This parade is probably one of the biggest events that the town has every year," Ralph Megliola, chairman of the township's Board of Supervisors, previously told ABC News. "Everyone looks forward to the parade. Myself and my family personally have been away and cut our vacation short to get home in time for the parade. Thousands of people line the streets."
According to a report published by ABC earlier this month, Barrett officials decided during the second week of October that they'd not just pull the plug on the annual parade, but ban children from trick-or-treating during Halloween this year as well due to the manhunt.
Law enforcement officials will meanwhile continue to comb through four municipalities in Monroe County, including Barrett Township, as the search for Frein lingers on.
You can share this story on social media: