Hawaii volcano about to consume its first home, with lava meters away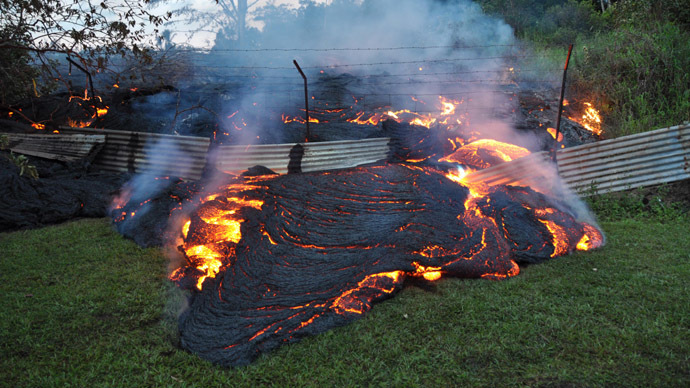 The 1,000-degree red mass of molten rock threatening to destroy a Hawaiian town is now only meters away from reaching its first home, and now threatens dozens more as it reaches Pahoa's commercial hub.
At present the flow is creeping at a slow pace less than 30 meters away from the Pahoa residence of Jeff and Denise Lagrimas, who decided not to stay to watch their home engulfed. They packed up to move to Kurtistown, 22 kilometers (14 miles) away.
"I don't want to stick around and just wait for it to come and take it," Denise told AP, as she packed up. "You just never know."
"Never in my wildest dreams as a kid growing up did I think I would be running from lava," she added.
Satellite and bird's-eye images just released depict the horrifying scars left in the wake of the flow, which threatens to consume more.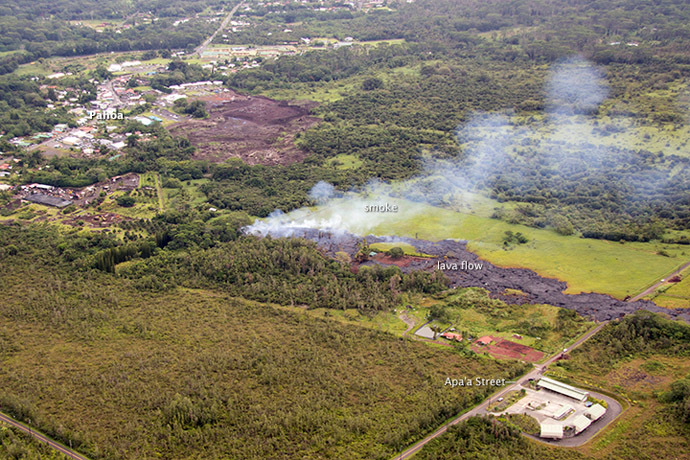 Asked what he thought, handyman Erbin Gamurot, 48, had a mystical view on things: Pele, the volcano goddess, "gotta go see her sister. She gotta go say hi. You know how family are. It's all good."
Scientists from the Volcano Observatory were inspecting the flow this morning to see if it might change direction. It's 220 meters away from Pahoa Village Road at its foremost edge. The road leads to the Big Island's commercial hub.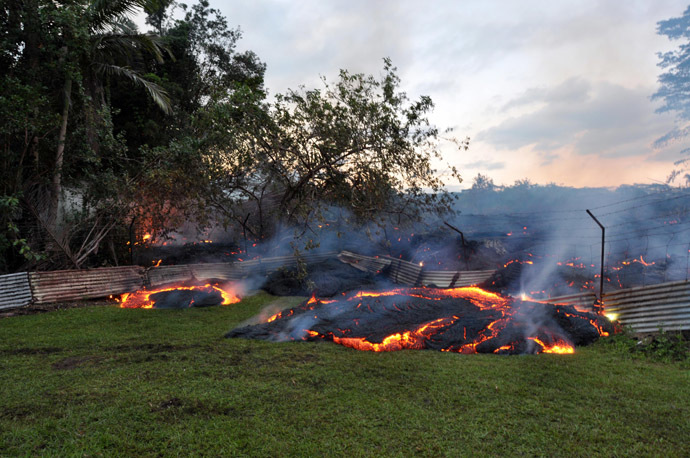 At present the foremost edge has been confined to a plot of farmland, about 90 meters away from another residence.
"This is just a little quiet village in a very rural community. We farm, we fish, we hunt," one resident, Jamila Dandini, said. "We're going to be an island on an island."
But the lava hasn't burned anything apart from tires, some metal and someone's garden shed. The rain helped on Wednesday to subdue the flow slightly, as it devoured all the vegetation in its path.
Officials and chemists are continuing to monitor for hazards, but so far have only detected low levels of sulfur dioxide, according to Hawaii County Civil Defense Director Darryl Oliveira.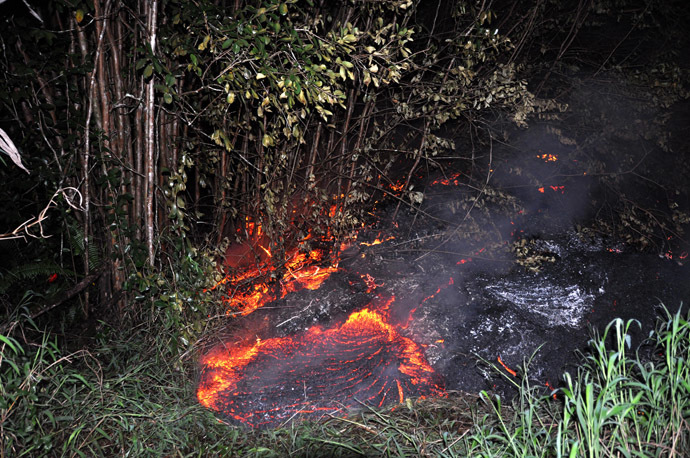 The townspeople of Pahoa have been well aware of Mt. Kilauea volcano for decades, as it has been erupting since 1983. However, the vast majority of the lava went south and straight out into the ocean. In June, a new vent opened, which put the lava flow on a collision course with the settlement.
They are now facing the prospect of having to abandon their homes as a juggernaut of molten lava 10.5 meters wide and over 1,000 degrees Celsius rampages across their village consuming everything.
You can share this story on social media: