7 weeks of eruption: Stunning aerial video of Iceland's Bardarbunga volcano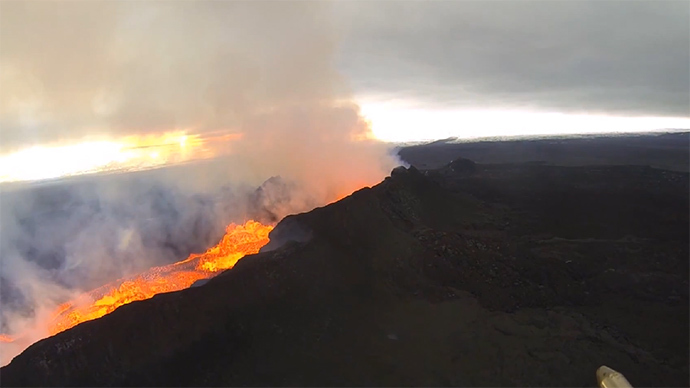 A breathtaking video filmed by an Icelandic helicopter pilot has documented the continuous eruption of the Bardarbunga volcano in northeast Iceland. Enormous fiery bubbles of lava and steam can be seen bursting from the ridges in the ground.
Helicopter pilot Gísli Gíslason captured the wondrous images while on several trips over the volcano – some of which were taken on Friday, and others a few days previously.
"Almost seven weeks have now passed since the Holuhraun lava eruption began. The eruption is continuing with few changes. The eruption is showing no signs of slowing down," he wrote in the video's description.
The Bardarbunga (Bárðarbunga) volcano is part of the second-tallest mountain in Iceland and located in the country's Holuhraun lava fields - a volcanic system that spans some 200 kilometers by 25 kilometers.
WATCH MORE:Bardarbunga volcano fly-over for sale (AMAZING AERIAL VIEWS)
In August, a "record wave of seismic activity" started at the subglacial volcano, according to the Icelandic National Broadcasting service, or RUV. Since mid-August, several significant earthquakes have been measured in the region, several of which have been in the magnitude of 3.0 – 4.5.
"Seismic activity at Bardarbunga is still high," the Icelandic Met Office reported Monday. "An earthquake, M 5.1 occurred at 08:54 this morning in the northern rim of the caldera. Some earthquakes between 4 and 5 occurred the last 24 hours."
It added that in general, visibility was poor. "The eruption site was visible on webcams in the night and this morning, but currently no visibility is in the area and nothing can be seen through webcams," it stated.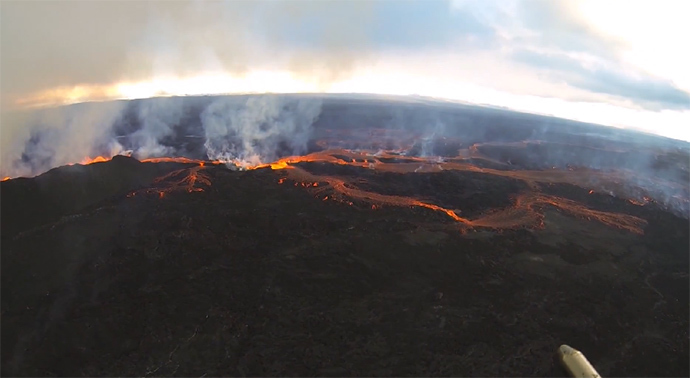 The office has additionally issued a warning: Gas pollution from the eruption "is expected to travel to the southeast and east. Tomorrow (Tuesday) it will travel to the southeast from the eruption site."
The eruption is considered the largest in Iceland for centuries, despite Eyjafjallajökull's headline-grabbing eruption in 2010, which was surprisingly paltry in comparison – because of how it grounded flights across southern Europe.
MORE:Extremely loud & incredibly close: Drone captures Iceland volcanic eruption (VIDEOS)
By October 1, Bardarbunga had already ejected more sulfur dioxide than any other Icelandic volcano in several hundred years, Freysteinn Sigmundsson, a geophysics and volcanology researcher at the University of Iceland's Institute of Earth Sciences, told Newsweek at the beginning of October.
While there have been no deaths directly linked to the volcano's eruption, the heightened levels of pollution are thought to have been causing harm to the elderly and those with lung ailments.
However, the worst volcano in the history of Iceland is thought to be the eruption of Lakagígar for eight months spanning 1783 and 1784, which caused crop failures and was responsible for the deaths of some 6 million people globally.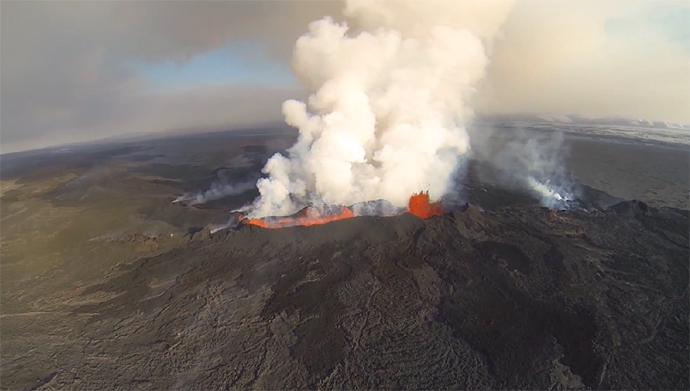 You can share this story on social media: