Bardarbunga: Iceland cuts aviation alert level to orange from red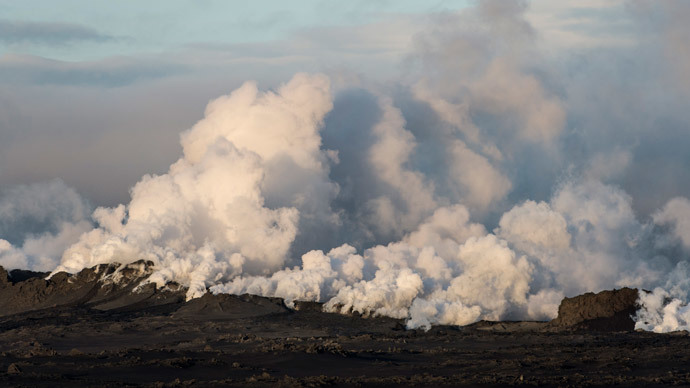 Icelandic authorities have reduced ash alert level for aviation to orange from red, after raising it to the maximum level earlier in the day due to a fissure eruption of the Bardarbunga volcano – accompanied by a series of small earthquakes.
"No ash has been detected. The Aviation Color Code for Bardarbunga/Holuhraun has therefore been reset to orange," the Meteorological Office said in a statement.
Code Red was set after a small eruption of the volcano, which started at 06:00 (5:00 GMT) Sunday. The country's aviation authorities closed the airspace around the eruption in an area of up to 1,800 meters, which so far does not interfere with long-range commercial flights performed on altitudes greater than 10,000 meters.
Of the five levels of aviation alert, Code Red is the highest, indicating that a volcanic eruption is either imminent or already under way, and that large quantities of volcanic ash are in the air.
The danger that volcanic ash poses for commercial carriers flying at high altitudes is that the ash can get into the engines and clog them, potentially causing crashes.
Iceland's meteorological agency described the eruption in the Holuhraun lava field, some 5 kilometers to the north from the Dyngjujoekull glacier, as a "very calm lava eruption and can hardly be seen on seismometers."
"Visual observation confirms it is calm, but continuous," the Met Office reported, as cited by AP.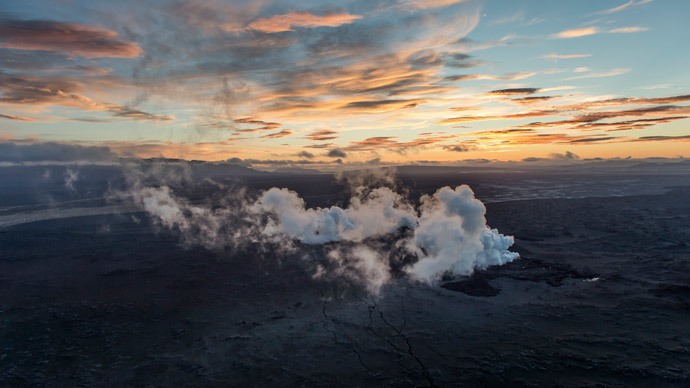 A 5.1-magnitude earthquake happened on Sunday in the northern part of the volcano, Iceland's Meteorological Service reported.
The previous eruption at Bardarbunga lasted only a few hours and occurred Friday, when a 600 meter-long fissure in the north Vatnajokull glacier erupted, though no ash was detected in the air at the time.
"This is a little bit larger fissure eruption than on Friday," Armann Hoskuldsson, a geologist at the University of Iceland who is working in the area, told Reuters.
"There is more lava and more rifts in the ice cap. The rifts are approximately 1 kilometer farther to the north than after the fissure eruption on Friday," he said.
The Bardarbunga volcanic system is Iceland's largest, measuring 190 kilometers by 25 kilometers. Over the last two weeks the area has been shaken by thousands of low-level earthquakes that preceded and accompanied the eruptions.
In 2010, a powerful eruption at Iceland's Eyjafjallajokull volcano crippled European air traffic for several days as the colossal cloud of volcanic ash drifted slowly across Northern Europe, with more than 20 countries shutting down all or most of their airspace. Over 100,000 flights were canceled, and millions of travelers across the continent, from Britain to Russia, were affected.
You can share this story on social media: