Official use only: Joe Biden's cheap vacation sparks investigation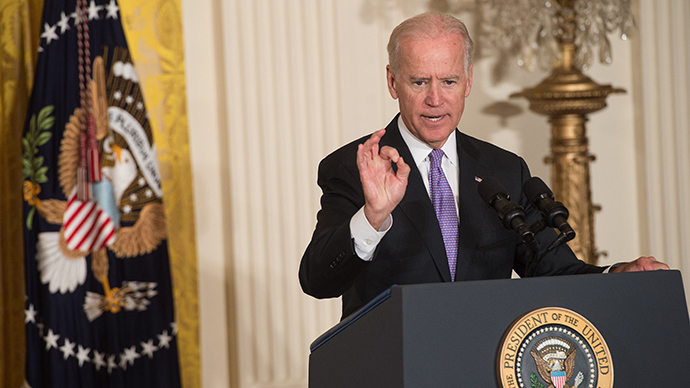 US Vice President Joe Biden and other White House officials are taking heat for allegedly using a federally-owned log cabin to take family vacations, despite the fact that it has been designated only for official use since 1992.
READ MORE: Vice: Biden son's brief Navy career ended after positive cocaine test
The incident revolves around a four-day trip the vice president took with his wife and 11 other members of his family in August. The Biden clan stayed in the four-bedroom Brinkerhoff Lodge, which is located at Grand Teton National Park in Wyoming. However, it doesn't appear the family paid for the visit.
Family members accompanying US officials on trips are usually required to pay their own way and for any extra charges.
Following the news, first reported by Time's Zeke Miller, the Interior Department announced it is opening an investigation into Biden's trip, as well as similar travels of a number of other Obama administration officials. In addition to the vice president, Education Secretary Arne Duncan and former Transportation Secretary Ray LaHood have also stayed at the lodge with other people.
At the heart of the issue is whether the Bidens, as well as the other officials, owe the government money for staying at the Brinkerhoff Lodge for reasons other than official business.
Due to controversy over the cabin's use in vacations, the National Park Service declared it should only be used for "official purposes." Since 2011, that rule has been relaxed to allow officials and their family members to stay, as long as the visit is tangentially related to government business.
Grand Teton spokeswoman Jackie Skaggs told Time that Biden received an official briefing and tour during his stay. Biden himself is reportedly ready to pay $1,200 for the trip, and his office says it has asked the park for a bill.
Regardless, the Interior Department itends to look into the matter.
"In light of inconsistencies in billing practices and ambiguity in the policy at the park, the Interior Department has directed the National Park Service to conduct an immediate review of compliance with the policy and related recordkeeping and to seek reimbursement, where appropriate, for use of the Brinkerhoff," an Interior Department spokesperson said.
READ MORE: Humbled Biden apologizes to UAE after accusing it of terrorism funding