California Highway Patrol officers traded nude photos of arrestees for years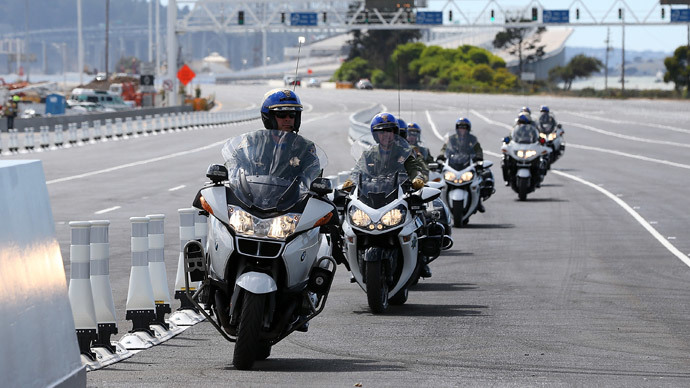 A California Highway Patrol officer has said stealing nude photos from women he arrested was part of a "game" he and other state officers of the department played in recent years.
Officer Sean Harrington, 35, is alleged to have taken six racy photos stored on a phone belonging to a 34-year-old woman he had arrested on Aug. 29 after the woman failed a sobriety test. Upon booking her into the Martinez County Jail, Harrington forwarded the nude or semi-nude photos from her phone to his own, says the woman, named Jane Doe in legal filings.
Harrington is now under investigation for a possible felony computer theft charge.
CoCo DA investigating CHP Officer Sean Harrington. Complaint he illegally copied photos from woman's phone to his. pic.twitter.com/cMo6uU0Zhf

— Laura Anthony (@LauraAnthony7) October 23, 2014
According to court records obtained by the Contra Costa Times, Harrington later admitted to sharing photos of Jane Doe and those of other female arrestees "half a dozen times in the last several years."
Harrington, a five-year veteran of the California Highway Patrol (CHP), told investigators with the Contra Costa district attorney's office that he sent the photos to fellow officer Robert Hazelwood.
The CHP confirmed to the Contra Costa Times that a 5-year veteran has been placed on "administrative duties" and is not on patrol, though Harrington was not mentioned by name.
"The allegations anger and disgust me," CHP Commissioner Joe Farrow said in a statement. "We expect the highest levels of integrity and moral strength from everyone in the California Highway Patrol, and there is no place in our organization for such behavior."
Farrow said the CHP has "active and open investigations" into the allegations as well.
Jane Doe's DUI case has been dismissed based on the allegations against Harrington.
"The callousness and depravity with which these officers communicated about my client is dehumanizing, horribly offensive and degrading to all women," said Rick Madsen, Jane Doe's attorney. "It's going to lead to another level of mistrust and skepticism to the motive of law enforcement in general."
Given her iPad was synced with her cell phone, the woman, a 23-year old from San Ramon, discovered the photos had been forwarded from her phone to another phone number she could not identify, the Contra Costa Times reported last week.
Harrington, authorities said, tried to delete evidence he had sent photos from her phone, not realizing the victim could trace them through her synced device.
Contra Costa district attorney inspector Darryl Holcombe wrote in the search warrant affidavit that he found probable cause to show officers Harrington and Hazelwood and others were involved in a "scheme to unlawfully access the cell phone of female arrestees by intentionally gaining access to their cell phone and without their knowledge, stealing and retaining nude or partially clothed photographs of them."
These actions amount to felony computer theft, according to the affidavit.
"Harrington said he first learned of this scheme when he was working in the Los Angeles office," the affidavit reads.
"Harrington said when he was assigned to the Dublin office, he learned from other officers that they would access the cell phones of female arrestees and look for nude photographs of them. Harrington said if photographs were located, the officers would then text the photographs to other sworn members of the office, and, to non-CHP individuals. Harrington described this scheme as a game."
Holcombe detailed the conversation between Harrington and Hazelwood upon the Aug. 29 arrest.
After receiving the photos, Hazelwood requested to see her "dl" - possibly meaning her driver's license.
Harrington replied in a text, "When we get back to office. And we'll have [the county jail] mug shot too."
The two officers then commenced to comment on her "rocking" body and breasts.
Court documents also revealed another instance of photo-sharing between officers that occurred in early August. Holcombe found that Harrington had taken two photos of a DUI suspect in a bikini.
"Taken from the phone of my 10-15x [CHP code for woman in custody] while she's in X-rays. Enjoy buddy!!!" Harrington wrote Hazelwood in an accompanying text message while the woman was possibly taken to a hospital for X-rays following a crash.
"No f------ nudes?" Hazelwood replied.
CHP Chief Avery Brown said Saturday that "there is no place in our organization for such behavior" within his department.
"I'm very disappointed and disgusted with the allegations of misconduct, and I want to thank the young lady for having the courage to bring this to our attention," Browne said during a news conference, according to KTVU.
You can share this story on social media: