SWAT kills Georgia man using info from drug addict who stole his car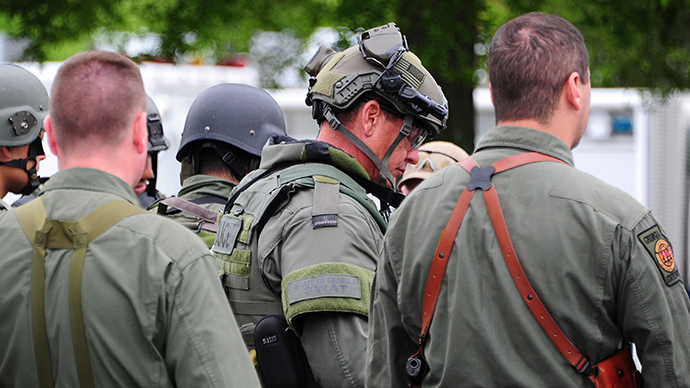 A Georgia SWAT team, acting on a tip from a drug addict, killed a 59-year-old grandfather and businessman in his home while executing a warrant. The informant had stolen a car from the property a few days before.
It was just before 11 p.m. on September 24 in East Dublin, Ga., and David Hooks was asleep. His wife, Teresa, was in her craft room. Their home had been burglarized two days before, and an SUV stolen. Teresa heard a car drive fast up the driveway, and she looked out the window, according to the family's attorney.
"She saw several men all in black and camo with hoods on," lawyer Mitch Shook told the Macon Telegraph. "She ran downstairs, woke David and said, 'The burglars are back'."
Hook retrieved his shotgun and went downstairs. What happened next is disputed.
Deputies knocked on the door and repeatedly announced, "Sheriff's department, search warrant," according to a news release from the Georgia Bureau of Investigation (GBI). Laurens County Sheriff Bill Harrell said Hook brandished a gun and "demonstrated aggression toward the deputies," WMAZ reported.
But Shook told the Atlanta Journal-Constitution that the police never knocked or identified themselves, as required by the "knock and announce" warrant.
"David and Teresa were under the impression that the burglars were back and that a home invasion was imminent," the family said in a statement. "David armed himself to protect his wife and his home."
"Despite the fact that the illegal search warrant did not have a 'no knock' clause, the Drug Task Force and SRT members broke down the back door of the family's home and entered firing in excess of 16 shots. These shots were from multiple firearms and from both 40 caliber handguns and assault rifles," the statement continued. "Several shots were fired through a blind wall at David with the shooters not knowing who or what was on the other side of the wall. The trajectory of the shots, coupled with the number of shots infers a clear intent on behalf of the shooters to kill David Hooks."
Hooks never fired his weapon, according to the family attorney.
"They may have seen him with a weapon, but it appears at that point in time it was chaos," Shook told the Telegraph. "They were shooting everywhere. There's a lot more to it than law enforcement has reported."
Shook claimed that deputies did not have enough probable cause but rather took the word of an informant, who was arrested in connection with the earlier burglary at Hooks' property.
Earlier in the day on the 24th, Rodney Garrett, a known drug abuser, told investigators that he took a plastic bag from a pickup at the Hooks home, believing that there was money inside, and a set of digital scales, WMAZ reported, citing the search warrant. Garrett then stole a Lincoln Aviator SUV from the Hooks' home. After he drove away, he claimed he realized that the bag contained 20 grams of methamphetamine instead of cash.
Garrett told officers that he "became scared for his safety," and turned himself in to Laurens deputies, the warrant said.
After the fatal raid, police conducted a search of the property.
"That search of some 44 hours conducted by numerous agents of the GBI resulted in not one item of contraband being found. He was not a drug user or a drug dealer," Shook told WMAZ.
In the warrant application, Laurens investigator Chris Brewer wrote that he knew Hooks and his home address from a previous investigation. Brewer said a suspect claimed he had been supplying "multiple ounces" of methamphetamine to Hooks, who re-sold it, the Macon CBS affiliate reported.
Shook said that investigation was done in 2009. Neither the attorney or the sheriff's department stated the outcome of that investigation.
Garrett has been charged with burglary, theft of a motor vehicle and other charges, according to the warrant.
Shook told the Telegraph that Hooks owns a construction company that does work on military bases and has passed background checks by state and federal authorities.
"This is not a person who needs to be involved in criminal activity for financial gain. He did very well financially," Shook said.
The family is asking the FBI to investigate the incident. Hooks is the 34th person to die in US domestic drug law enforcement operations this year, StoptheDrugWar.com reported.