Detroit cop goes on trial for killing 7-year-old girl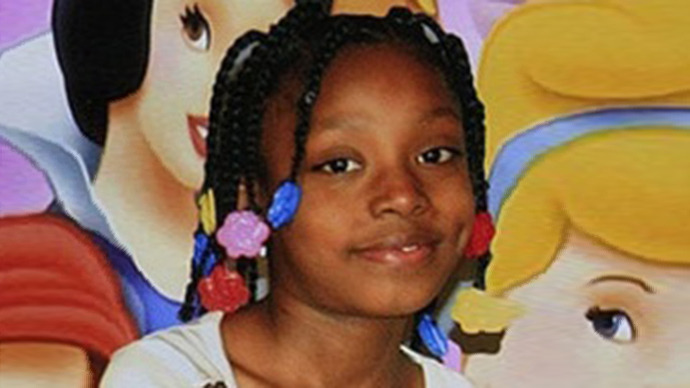 A Detroit police officer charged with fatally shooting a 7-year-old girl while she was asleep on her couch will stand trial in June. The fatal gunshot was recorded by a reality TV crew, which was filming an episode of "The First 48."
Aiyana Stanley-Jones, a 7-year-old girl from Detroit, was shot in the head while a SWAT team conducted a midnight raid of her two-story home, tossed a flash grenade through a window, fired the bullet that killed her, and burst through the front door on May 16, 2010.
Police officers were searching for a murder suspect accused of killing a 17-year-old boy and were accompanied by a camera crew recording the raid for a reality A&E TV show called "The First 48" – a show that closely resembles "Cops". The TV show tracks murder investigations in the immediate aftermath of a slaying, and provides viewers with real-life police drama.
But that quest for drama overstepped its boundaries on that fatal night three years ago. Officer Joseph Weekley, a then-member of the Detroit Police Special Response Team, was carrying the gun that shot that little girl. Police claim that the weapon accidentally discharged after Weekley bumped into the girl's grandmother. But if convicted of involuntary manslaughter, Weekley could face a maximum penalty of 15 years in prison.
 The cop has been accused of acting with gross negligence by failing to prevent his gun from firing. The victim was one of four young children that were in the home at the time of the raid. Video footage gathered by the A&E camera crew will serve as evidence in the case, but videographer Allison Howard is also facing charges. The camerawoman was indicted on perjury and obstruction of justice charges after she was accused of withholding crucial video footage from authorities, while sharing it with unspecified "third parties".
The shooting, together with the presence of "The First 48" camera crew, shocked and outraged Detroit residents and prompted Mayor Dave Bing to ban reality TV crews from shadowing police in Detroit.  He also prompted then-Police Chief Warren Evans' resignation for failing to inform the mayor that he was allowing TV cameras to accompany police raids. Evans was allegedly also planning to partake in a different reality TV show, in which he would be the star, AP reports.
"Police work is not television, and television work is not police work," Ron Scott, spokesman for Detroit Coalition Against Police Brutality, told AP. "The two combined to make it a horrific night."
Scott also referred to the raid and the shooting as a "military assault on a private dwelling".

On Friday, Weekley appeared at a Detroit courthouse to file a motion for dismissal of the case against him. About 30 protesters, led by the victim's family, gathered at the courthouse, chanting "Justice for Aiyana" and "No Justice, No peace". Weekley's motion was dismissed, and a jury for the case will be selected May 29.
"It shouldn't have taken three years for this to come to justice when a little girl died," Scott told MLive.
You can share this story on social media: