Graffiti artist paints dream homes for LA homeless (PHOTOS)
Published time: 26 Oct, 2014 17:15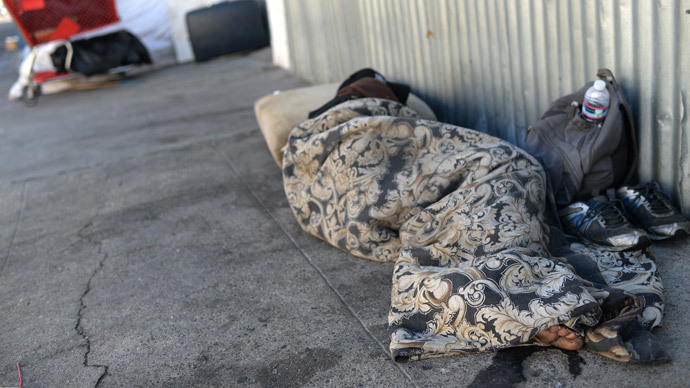 A Los Angeles graffiti artist spray-paints murals around the homeless, depicting their hopes, dreams – and sometimes entire imaginary apartments.
The artist's nickname is 'Skid Robot', and he introduces himself as "an anonymous artist amongst the streets of skidrow, giving to those in need. Creating a dialogue for a solution to extreme poverty through art."

The artist has been posting his artwork on Instagram since last November, depicting the homeless people's hopes and dreams: food, money, video games, luxury cars, Apple products. Among the artworks are also homes, natural landscapes, and even a throne for one wheelchair-bound man.

"Ben was released from the #hospital with no #shoes," the caption says. "He was unable to walk as a result of being shot in the back and eventually the hospital booted him on the #street like so many others." Skid Robot added that Ben had asked him for a pencil and sketchbook instead of food.

The artist started out with just bubbles with dreams in them, but soon proceeded to more complex pictures.

Among the most frequent hashtags he uses on Instagram are #FeedThePoor and #HelpTheHomeless: indeed, the artist also often shares the food with the person he paints for.

The idea, Skid Robot told Vice in an interview, was suggested by his girlfriend, and at first he even felt guilty about "using [the homeless] as props." But soon he came to realize that he could be helping as well.

"I went to the 99-cent store and bought snacks and toiletries and made care packages for these people. That way, when I do roll up, I have something to give them," he said.

The encounters with the homeless don't always end well, though, the artist said.

"I had a woman pull a shank on me, so that got kind of real. I had another guy chase me down the street," but "most enjoy it" and "when I offer food and money, they're usually hella down with it, and cool to participate."

The artist currently works in Los Angeles, New York and Baltimore, and has launched a campaign to boost the project and help those in need.