Banksy's ironic 'protesting birds' art piece erased as 'offensive and racist'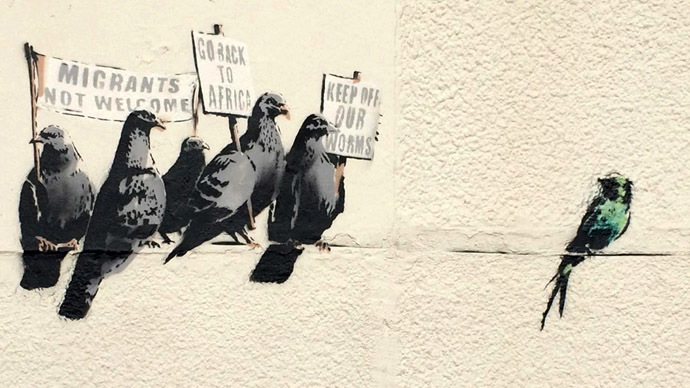 A Banksy mural addressing the issue of immigration has been removed from a wall in Essex. The local council, unaware it was a priceless work by the renowned British graffiti artist, responded to a complaint that deemed it "offensive."
The mural in Clacton-on-Sea, likely to be worth tens of thousands of pounds, depicted five pigeons holding banners, reading 'Go Back to Africa', 'Migrants Not Welcome' and 'Keep Off Our Worms', while a lone, exotic bird perches nearby.
Responding to a complaint made by a member of public, who claimed the work was "racist" and "offensive," the council admitted it was unaware it was a Banksy piece.
The Clacton Banksy story is depressing on so many fronts not least of all for the education of the people involved.

— John Cooper (@John_Cooper_QC) October 2, 2014
"The site was inspected by staff who agreed that it could be seen as offensive and it was removed this morning in line with our policy to remove this type of material within 48 hours," said Nigel Brown, Tendring District Council's communications manager.
"We would obviously welcome an appropriate Banksy original on any of our seafronts and would be delighted if he returned in the future."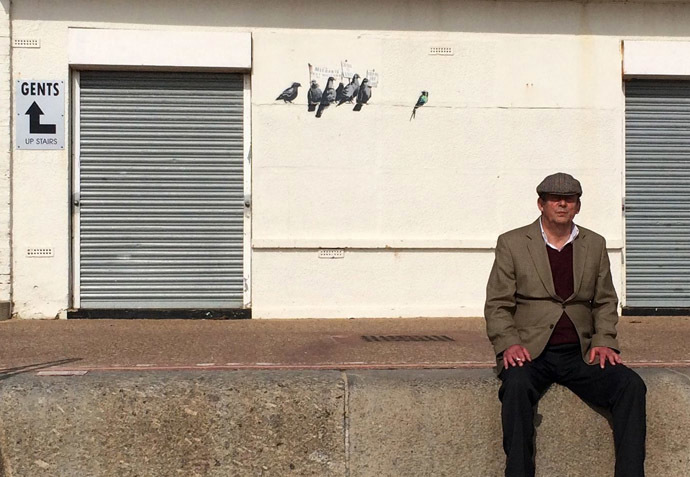 On October 9, a by-election will be held Clacton-on-Sea, following the local Conservative MP Douglas Carswell's defection to UKIP. Banksy likely targeted the seaside town in advance of the vote in order to ridicule UKIP's anti-immigration stance.
I see where Tory Council painted over #Banksy mural. An act of vandalism that's lost #Clacton big tourist income. pic.twitter.com/I4xhBKJaQG

— Richard Howitt MEP (@richardhowitt) October 2, 2014
Banksy confirmed the mural was his work, publishing two images on his website. But by then, the council had already removed the piece.
Murals from the controversial artist are worth hundreds of thousands of pounds. A Banksy original entitled 'Mobile Lovers' was sold for 403,000 pounds ($650,000) in August after it was sold from a wall of a Bristol youth club.
You can share this story on social media: