Perfect irony: Walmart caught selling Banksy's anti-consumerist art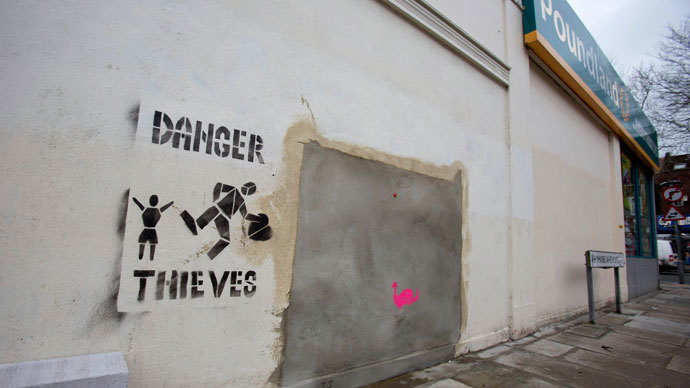 From Che Guevara Tees to Communist kitsch, the market has long made a buck off of selling rebellion to gullible teens. Walmart, however, took it to another level by selling knockoff prints from the prolific UK street artist Banksy.
In a perfect coup of irony, one of the silkscreen Banksy prints depicted a vendor at a stand selling "Destroy Capitalism" T-shirts. Another of the trademark violating Tees was emblazoned with the slogan: "If you want to achieve greatness, stop asking for permission."
In yet another case, the American multinational mislabeled street artist Thierry Guetta's (a.k.a. Mr. Brainwash) "Life Is Beautiful" as a Banksy work.
Jo Brooks, Banksy's publicist, told LAist: "The Banksy canvases you showed me are counterfeit reproductions and we are currently dealing with Walmart about them."
Since Banksy deliberately does not copyright his work, Walmart can legally use his images (or images based on them) without asking his permission. However, falsely representing someone else's work as Banksy's could provide grounds for a lawsuit.
Walmart, who discontinued selling the shirts on Tuesday, blamed the mistake on a third-party vendor, who in turn said they received the counterfeit prints from another third-party vendor.
"I think he'd probably appreciate the irony of a monstrous corporation appropriating his anti-consumerist art and selling it at a markup without giving him any money – that's pretty punk rock," said Jake Dobkin, LAist's in-house street art expert.
Banksy, who characterized his intricate stenciling-based graffiti art as a means of underclass "revenge," has seen his work gather worldwide acclaim and derision alike.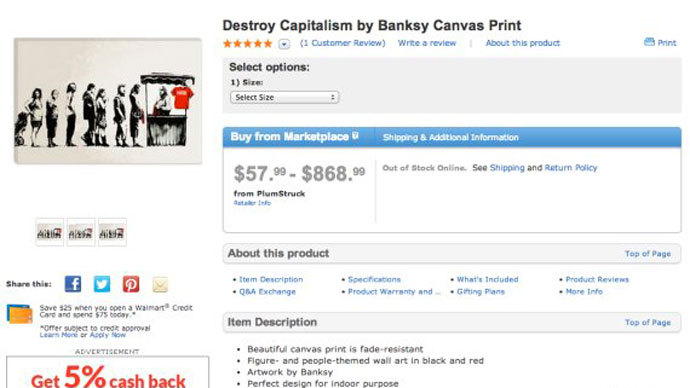 The Independent's Jack Orlik once opined that celebrity had turned Banksy "into a commodity to be sold to hipsters and hoorahs." The Guardian's satirist-in-chief Charlie Brooker pulled no punches, saying: "His work looks dazzlingly clever to idiots."
Although three of Banksy's works each sold for upwards of six figures during a February 2007 Sotheby's auction in London, Banksy updated his website with an image of an auction house, with the patrons bidding on a picture which read: "I Can't Believe You Morons Actually Buy This Shit."
Banksy, who once called the galleries selling his street art "unauthorized," has lamented: "Graffiti art has a hard enough life as it is, before you add hedge-fund managers wanting to chop it out and hang it over the fireplace. For the sake of keeping all street art where it belongs, I'd encourage people not to buy anything by anybody, unless it was created for sale in the first place."
Despite his opposition to the unauthorized sale or reproduction of his street art, Banksy's net worth is estimated at $20 million, Forbes reports.
Aware of the contradiction, Bansky has gone to great lengths to distance himself from claims he is simply using his street cred to hawk his art. Earlier this year, he set up a stall in New York's Central Park selling original canvasses for $60 a pop which could easily command upwards $200,000 at an international auction house.
A total of three buyers bought eight paintings that day.
"I started painting on the street because it was the only venue that would give me a show," the anonymous artist told the Village Voice in October. "Now I have to keep painting on the street to prove to myself it wasn't a cynical plan. Plus it saves money on having to buy canvases."
He admitted, however, there was no denying the reality that commercial success was a "mark of failure" for a graffiti artist.
"We're not supposed to be embraced in that way. When you look at how society rewards so many of the wrong people, it's hard not to view financial reimbursement as a badge of self-serving mediocrity," he said.
"But it's complicated," he said, adding: "It feels like as soon as you profit from an image you've put on the street, it magically transforms that piece into advertising. When graffiti isn't criminal, it loses most of its innocence."