US Dragon spacecraft brings NASA's cargo, 'critical' research results back to Earth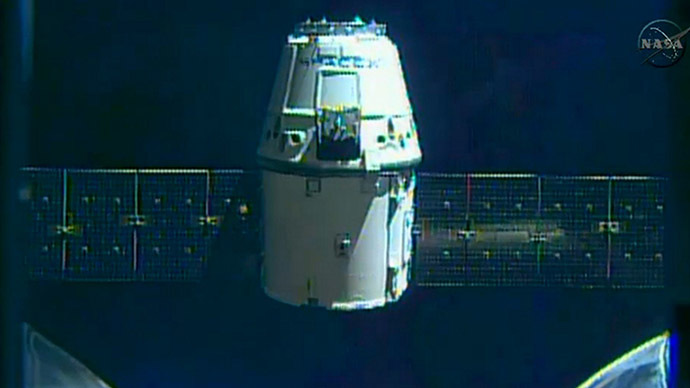 SpaceX's Dragon spacecraft has splashed down in the Pacific after successfully concluding a mission to the International Space Station, bringing back to Earth hundreds of pounds of NASA cargo and the results of "critical" long-term research.
A boat is now delivering the Dragon capsule to a port in Los Angeles after it splashed down at 3:39 pm EDT some 300 miles west of Baja California. In LA some 3,276 pounds of NASA's cargo from the ISS will be removed and returned to NASA within 48 hours, according to the press release. The capsule itself will then be returned to a SpaceX facility in McGregor, Texas.
"This mission enabled research critical to achieving NASA's goal of long-duration human spaceflight in deep space,"said director of the International Space Station division at NASA, Sam Scimemi. "The delivery of the ISS RapidScatterometer advances our understanding of Earth science, and the 3-D printer will enable a critical technology demonstration."
Busy time for US #ISScargo missions. @SpaceX splashed down today, & @OrbitalSciences launches Monday. #LaunchAmericapic.twitter.com/f469IoMAsH

— NASA (@NASA) October 26, 2014
"Investigations in the returned cargo could aid in the development of more efficient solar cells and semiconductor-based electronics, the development of plants better suited for space, and improvements in sustainable agriculture," he added.
The space cargo also contains the results of the Rodent Research experiment, for which 20 mice had been delivered to the ISS to study the long-term effects of microgravity on physiology.
SpaceX will use a 150 ft boat equipped with an A-frame crane and two inflatable boats to perform recovery operations. pic.twitter.com/NhvvPjegUv

— Astro Mouse (@AstroMiceRule) October 25, 2014
"This study supports ongoing research into how microgravity affects animals, providing information relevant to human spaceflight, discoveries in basic biology, and knowledge that may direct affect human health on Earth," NASA said.
The Dragon is the only American space vehicle now that can return space cargo to Earth since the retirement of the Space Shuttle fleet.
It was the company's fourth cargo delivery flight to the space station through a $1.6 billion NASA Commercial Resupply Services contract. The Dragon is expected to conduct eight more cargo resupply missions to the ISS.