Spare parts in space: NASA to send ISS its first 3D printer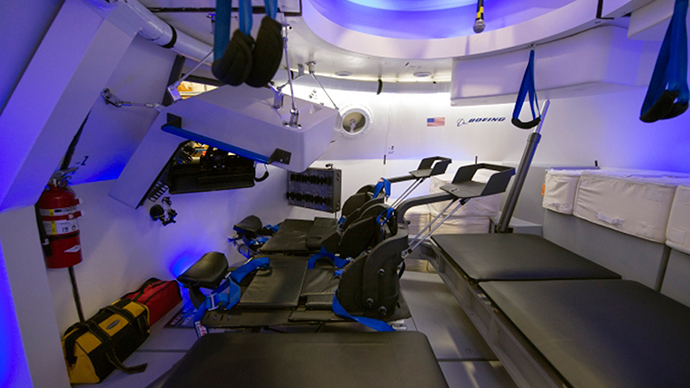 NASA is set to send the first 3D printer into space, potentially allowing astronauts to print new parts of the International Space Station (ISS) in zero-gravity conditions.
"We've been building tools for thousands of years. This is the first time that it's not happening down here, but up there [in space]. That's paradigm shifting," Aaron Kemmer – CEO and co-founder of Made in Space, the printer's manufacturer – told CNET.
"We can actually leave planet Earth if we can start doing this more and more, if we start living off the land, building there, getting independent from planet Earth, rather than being completely dependent," he said.

In addition to making parts at the station, NASA envisages it helping set up residents in far-away places such as Mars.

"If we're really going to set up shop on Mars, we have to do this," Jeff Sheehy, NASA's senior technologist, said Friday.
"We really can't afford to bring everything we need for an indefinite amount of time. We'll need to get to the point where we can make things that we need as we go."

Made in Space has manufactured the printer specifically to work in zero gravity conditions inside a sealed chamber. The spare parts that it will be able to print will be made out of the same material as Lego bricks. The process of printing the materials remains the same as it is on Earth.

The printer is nearly 12 inches tall, 9.5 inches wide, and 14.5 inches deep. A commercial "big brother" printer will be flown out next year, AP reported. The primary challenge was apparently creating a printer that could actually withstand the massive force of takeoff.
The company has been displaying items made by the printer at Kennedy Space Center, reported AP. Among the pieces chosen was a 3D printed version of an air filter used by astronauts aboard Apollo 13, which took some five hours to produce.

After the printer experiments with creating parts in zero-gravity conditions, the items – made by layering plastic upon plastic – will be taken back to Earth for quality assessments.

They will be "pulled and twisted and peeled and subjected to a lot of tests to determine the quality of the parts," Sheehy said. The intention of the tests is to give confidence that items made by the 3D printing method will work, "even though [the idea is] new and innovative."

"This is the first time that our species, humanity, has built tools off planet Earth," Kemmer said.

"This is a huge, huge time for us," business development engineer Brad Kohlenberg added.

The printer is being taken to the ISS along with 5,000 pounds of new equipment and cargo packed into a SpaceX Dragon capsule.

The printer's original launch date was scheduled for Friday. However, rainy weather forced SpaceX to delay the launch until Sunday.
You can share this story on social media: