3 deputies, 1 civilian shot in California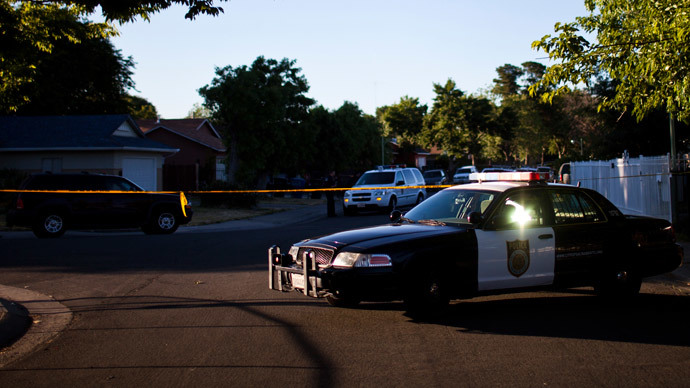 Authorities in California say they have arrested a suspect in a shooting spree that killed two police officers and injured a third, as well as one bystander.
A 34-year-old suspect, Marcelo Marquez, was taken alive following a shooting spree that spanned 30 miles through two California counties, Placer County Sheriff's spokeswoman Dena Erwin said.
He was arrested at a home in Auburn, about 30 miles northwest of the Sacramento neighborhood where a Sacramento County deputy was killed earlier, AP reports. Sheriff's office also confirmed that a second deputy allegedly injured by the suspect died from his injuries.
At least one civilian victim has been shot in Sac Co. Suspects are heavily armed and dangerous

— CHP North Sac (@CHPNSac) October 24, 2014
The condition of the third deputy and the civilian was not immediately known.
The North Sacramento branch of the California Highway Patrol were looking for at least one suspect on Friday afternoon who they considered "heavily armed and dangerous."
The series of incidents began with a shooting at a deputy Danny Oliver, 47, and his partner, who were responding to a suspicious person report at around 10:30 local time in Sacramento.
"The person who was inside of the vehicle shot rounds at the officer," Lisa Bowman of the Sacramento County Sheriff's Department told KTVU.
After that, the suspect attempted to carjack another vehicle and shot the driver, who apparently refused to surrender the keys.
News copters need to stay out of Swat ops for safety of all!

— Placer Sheriff (@PlacerSheriff) October 24, 2014
The suspect then reportedly successfully stole another truck and fled the scene.
The suspects reportedly fled up Fair Oaks Boulevard to Carmichael, where a Sacramento County parks ranger spotted them changing clothes, The Sacramento Bee reports.
Despite massive police response, the suspects fled the area and were later confronted by two Placer County sheriff's deputies, both of whom were wounded by gunfire.
At some point after that, the female who either accompanied the gunman or was a passenger in a stolen car was taken into custody while authorities continued their search for a Hispanic male suspect.