Michelle Obama hits campaign trail, confuses Democratic candidate for Republican opponent (VIDEO)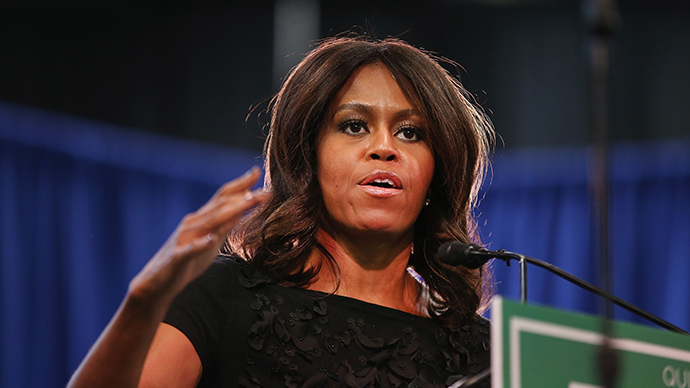 First Lady Michelle Obama has once again confused the identity of a Democratic candidate while on the campaign trail ahead of the November 4 elections.
In Colorado on Thursday to campaign for the Democratic incumbent running to keep his US Senate seat, the First Lady said Sen. Mark Udall was a "fifth-generation Coloradan." In fact, Udall, son of longtime former congressman Morris Udall, was born in Arizona.
Udall's challenger, US Rep. Cory Gardner, is the fifth-generation Coloradan,accordingto The Weekly Standard.
Earlier this month, the First Lady was a guest speaker at a rally at Drake University in Iowa to lend support to US Senate candidate Bob Braley, whom she repeatedly called "Bailey" before participants shouted out the correct pronunciation.
"Braley. What did I say?" she asked, taking the mistake in stride. "I'm losing it. I'm getting old. I've been traveling too much."
"I know where I am. I know what I'm doing,"she told the crowd.
However, Michelle Obama's flubs on the campaign trail are the least of problems currently facing the Democratic Party. The party's candidates and incumbents across the US have largelyavoidedmuch of any association with President Barack Obama, who is seen as politically unpopular with many undecided and battleground-state voters.
Debbie Wasserman Schultz, chairwoman of the Democratic National Committee, struggled in a recentinterviewwith Bloomberg to name candidates that President Obama had campaigned for.
"There are races that the president is campaigning in around the country, and he's also governing," she insisted without offering specifics. "He's doing his job, and he's also spending time recording robo-calls and doing radio spots."
RT previouslyreportedthat the president has taken to more clandestine ways to campaign for candidates ahead of Nov. 4, participating in radio interviews and taping ads for specific races.
In an interview with MSNBC's 'Morning Joe,' Wasserman Schultz refused to say whether a vote for Democratic candidates in November is a vote for a continuation of Obama's policies.
"Barack Obama was on the ballot in 2012 and 2008," she said.
The Democratic Party isexpectedto lose control of the US Senate in November, though Wasserman Schultz said on MSNBC that she believes the party will lose fewer Senate seats than Republicans will lose in gubernatorial races across the nation.