Leaked memo says major fundraising, catering to elite needed for Senate candidate to win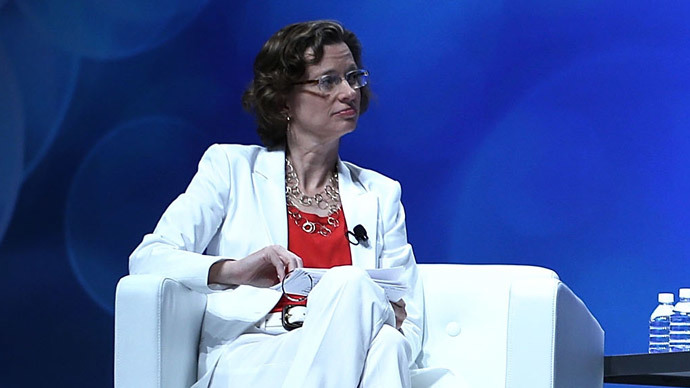 A campaign strategy memo developed for Georgia Democratic Senate candidate Michelle Nunn was leaked online Monday, illustrating the dominant roles that fundraising and pandering to the affluent play in American politics.
The December 2013 memo, obtained by National Review, outlines a potential campaign finance plan for Nunn, calling for the Democrat to spend 70 to 80 percent of her time raising cash from January through September. In October, the candidate's time raising funds falls to 50 percent.
"Hitting our targets will require us to prioritize fundraising above all else and to focus the candidate's time on it with relentless intensity," the memo suggests, going on to add that Nunn should spend 2,201 hours raising money during the 2,500 campaign hours in 2014.
Overall, the memo says Nunn needs to raise $15 million to $20 million during the entire race. Nunn, who was uncontested in her party's primary, is pitted against Republican David Perdue to fill the seat of outgoing senator Saxby Chambliss.
The memo outlines eight different groups Nunn should target as potential sources of the kind of big money needed to win the seat. Those groups include Georgia CEOs and business leaders; a cadre of major Democratic donors; trial lawyers and law firms; the tech industry; the National Finance Committee; the Jewish community; young professionals; women; and the larger lesbian, gay, bisexual, and transgender community.
The memo hones in on corporate CEOs and the business community as the possible top source of funds. Nunn, the memo suggests, should pick up talking points and policy preferences of CEOs when appealing to them for money. These priorities should include support for a lower corporate tax rate and creating a "well-trained work force," which CEOs have cited as reasons why job growth has not risen during the post-recession years.
General Electric CEO Jeffrey Immelt is a top name mentioned in the memo. Immelt, who "offered to host an event" for Nunn, the memo says, is an an advocate of lowering the corporate tax rate. GE paid an average federal income tax rate of 1.8 percent from 2002 to 2011, all while it kept profits in offshore accounts, according to Citizens for Tax Justice.
The memo goes on to recommend tapping deficit-hawk groups funded by private equity billion Pete Peterson for advice on issues like tax reform. Peterson's groups - including Peter G. Peterson Foundation, Fix the Debt, and the Concord Coalition - have supported cutting social safety net programs like Medicare and Social Security. Fix the Debt, a lobbying push bankrolled by major corporations, aimed to take advantage of the "fiscal cliff" deliberations of 2012 to push its anti-social-spending agenda.
The memo urges Nunn to focus on donors who can offer lucrative amounts of money and who can tap into their contacts with other wealthy potential funders.
"Our primary focus with call time will be making major requests, 1) asking individuals to raise $10,000 or more either through an event or just as a raiser, and 2) asking donors who have maxed to contribute to the Nunn Victory Fund," the memo says.
The memo calls on Nunn to focus on donors who have given $1,000 to her campaign, but who could give more; those who have given the maximum $5,200, but who could give to her victory fund, which filters money to the Georgia Democratic Party; and large donors who could give to the National Finance Committee.
Outside of business objectives, the memo says Nunn must use targeted messaging to emphasize policy preferences of her other prioritized communities. For instance, she should voice her support for marriage equality with LGBT donors, the memo suggests. With the tech community, she should push her support for the "the entrepreneurial spirit of Georgians" For the Jewish community, the memo says, "Michelle's position on Israel will largely determine the level of support here."
Besides raising her own funds, the memo advises Nunn to raise at least $1 million for the Democratic Senatorial Campaign Committee in order to unleash its resources for her own race. In addition, she is urged to raise $3 million for the Nunn Victory Fund to help the state's Democratic Party in its get-out-the-vote efforts ahead of the November vote.
By the end of June, Nunn's campaign had raised $9.2 million, The Huffington Post reported, just below the memo's target of $9.5 million at this point in 2014.
You can share this story on social media: