Dallas nurse Nina Pham declared free of Ebola, discharged from hospital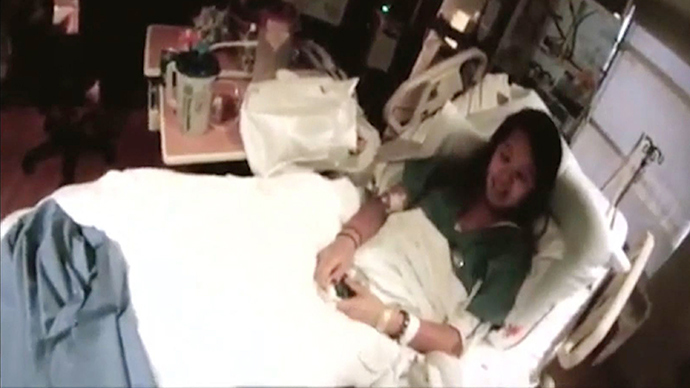 Nina Pham, the Dallas, Texas nurse who recently became the first person to contract the deadly Ebola virus in the United States, has overcome the disease and will be released from the hospital.
At a press conference Friday afternoon, health officials confirmed that Pham is free of Ebola and can return home.
Dr. Anthony S. Fauci, the director of the National Institute of Allergy and Infectious Diseases, said that five recent tests conducted on the patient proved to be negative.
#Dallas nurse Nina Pham is #Ebola-free and heading home to her (also Ebola-free) dog, #Bentleyhttp://t.co/Nlr127ULrkpic.twitter.com/aEr6J51peE

— The Hill (@thehill) October 24, 2014
"I feel fortunate and blessed to be standing here today," Pham told a crowd outside of the National Institutes of Health in Bethesda, Maryland on Friday in her first public statement delivered since she became the first American to contract the disease on US soil.
"She is cured of Ebola," Dr. Fauci said. "Let's get that clear. That's for sure."
After speaking at NIH, Pham, her mother Diane and sister Cathy went to the White House, where they met with President Barack Obama in the Oval Office. The 26-year-old and the commander-in-chief talked and hugged during the visit.
Obama hugs Nina Pham, nurse who is now Ebola-free http://t.co/LtJ2czH7Gppic.twitter.com/yaqij3xpl6

— Washington Post (@washingtonpost) October 24, 2014
White House spokesman Josh Earnest called the meeting "an opportunity for the president to thank her for her service."
Pham, 26, was diagnosed with Ebola earlier this month and moved from Dallas to the NIG's Special Clinical Studies Unit on October 16. She is believed to have contracted the disease from Thomas Eric Duncan, a Liberian national who traveled to the US in September and sought treatment at Pham's facility in Dallas. Duncan, 42, died from the disease on Oct. 8.
NURSE FREE OF EBOLA: "I feel fortunate and blessed to be standing here today," Nina Pham says. http://t.co/sdOopuyhdxpic.twitter.com/wug0KtkNx1

— NBCWashington (@nbcwashington) October 24, 2014
READ: Worst Ebola epidemic in history LIVE UPDATES
A second Dallas nurse, Amber Vinson, tested positive or Ebola on October 15 and was flown to Atlanta for treatment at Emory University Hospital. Vinson's family said this week that she is Ebola-free, but officials have declined to confirm as much.
Meanwhile, a New York City-based doctor, Craig Spencer, was confirmed to have the disease late Thursday this week. Spencer, a 33-year-old physician with the group Doctors Without Borders, reportedly developed a fever early Thursday morning and subsequently sought treatment — six days after he returned to the US from Guinea where he had been treating Ebola patients amidst the months-long outbreak that continues to ravage parts of West Africa.
You can share this story on social media: