'US should live up to its own laws' – Noam Chomsky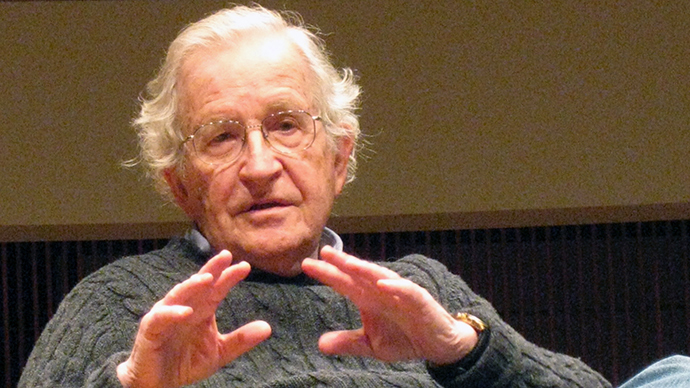 The US should live up to its own laws in regards to arming other countries, specifically considering its own policy on Israel, which has, according to the world-renowned academic Noam Chomsky, itself been violating both US and international law.
Chomsky made the comments at a UN session last week and pursued a deeply critical vein throughout.

"When President Obama rarely says anything about what's happening, it's usually, 'If my daughters were being attacked by rockets, I would do anything to stop it.' He's referring not to the hundreds of Palestinian children who are being killed and slaughtered," Chomsky stated.

While everyone has the right to self-defense, according to Chomsky, "whether it's an individual or state…if you won't even permit peaceful means, which is the case here, then you have no right of self-defense by violence," he added.

On July 8, 2014, Israel launched a seven-week military campaign, dubbed Operation Protective Edge, against Palestinians in the Gaza Strip, which resulted in the deaths of some 2,200 people and widespread physical destruction, with much of the slither of land wedged between Egypt and Israel resembling an earthquake zone.

READ MORE: Inquiry launched into Israeli attacks on UN Gaza schools
At the beginning of August, the US approved emergency funding to support Israel's Iron Dome defense system. Congress overwhelmingly approved an emergency measure to grant $225 million in additional revenue to Israel for the country's Iron Dome missile defense system.

Chomsky cited the Leahy Law divulged by Senator Patrick Leahy. The human rights amendment prohibits the US Department of State and Department of Defense from dispatching any weapons supplies to states which are involved in human rights violations.
"There isn't the slightest doubt that the Israeli army is involved in massive human rights violations, which means that all dispatch of US arms to Israel is in violation of US law," Chomsky said.

He took a critical approach to the "boycott, divest, sanctions (BDS) movement," describing it as a set of tactics rather than principles. "Tactics are not principles. They're not actions that you undertake no matter what because you think they're right," he pointed out to the UN.

The international community has been deeply critical of Israel's actions against Palestine, with several prominent academics and writers such as Israeli historian Ilan Pappe, film director Ken Loach, and children's author and poet, Michael Rosen.

READ MORE: International effort raises $5.4 billion for Gaza
Chomsky brought one further contention to the international delegates – the tax-free status for US organizations in Israel which are engaged in human rights violations.

"Remember, a tax exemption means I pay for it," he said.
You can share this story on social media: