US to monitor anyone coming from Ebola-stricken countries for 21 days
Published time: 22 Oct, 2014 15:55
Edited time: 23 Oct, 2014 04:45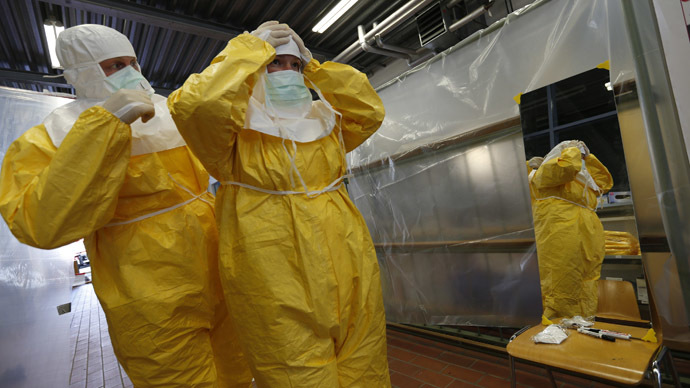 The Centers for Disease Control and Prevention will soon begin monitoring all persons entering the United States from West Africa for 21 days as part of the group's ongoing effort to combat the spread of Ebola.
Starting next Monday, health workers, journalists and all other travelers coming to the US from three of the African nations currently fighting the worst Ebola disease outbreak in history will have to adhere to strict guidelines announced on Wednesday this week by the CDC.
"These new measures I'm announcing today will give additional levels of safety so that people who develop symptoms of Ebola are isolated quickly," CDC Director Tom Frieden told reporters during a press briefing on Wednesday, according to the Washington Post.
Travelers entering the US from Sierra Leone, Guinea and Liberia will all be subject to the new monitoring system, which will involve collecting contact information from individuals returning from those countries and then following up with them daily for three weeks. Starting Monday, the monitoring system will be initiated at facilities in the states of New York, New Jersey, Pennsylvania, Georgia, Virginia and Maryland.
"People will receive a kit when they arrive at the airport that explains what the symptoms are, a guide to telephone numbers and a thermometer," the Post reported following Frieden's presser. "State and local officials will maintain daily contact with travelers for the entire 21 days."
Persons infected with the Ebola virus may start showing symptoms as soon as two days after contracting the disease, but only for upwards of three weeks. Further, the virus is only communicable when an individual is showing symptoms.
So far, only two Americans have contracted Ebola while in the US. Both patients — health care workers from Texas — were diagnosed with the disease after caring for Thomas Duncan, a 42-year-old Liberian national who traveled to the US with the virus and was unsuccessfully treated at a facility in Dallas before dying earlier this month.