Paraplegic groom walks down aisle thanks to robotic exoskeleton (VIDEO)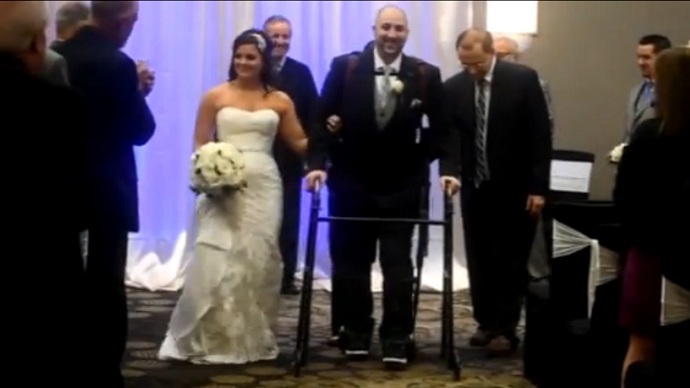 Matt Ficarra was paralyzed from the chest down in a freak boating accident in 2011, but he didn't let that prevent him from walking down the aisle on Saturday night… literally. The 30-year-old used a robotic exoskeleton to accomplish the miraculous feat.
Ficarra walked into the ballroom to await his bride in Syracuse, New York to applause and cheering. He stood tall at his full six feet ‒ something most of the wedding guests hadn't seen since July 30, 2011. He beamed as first the bridal party, then his wife-to-be, Jordan Basile, walked down the aisle, letting out an audible "wow" as she came into view, the Syracuse Post-Dispatch reported. After a 15-minute ceremony, the wedded couple began their recessional, arm-in-arm and grinning from ear to ear.
Just over three years ago, Ficarra, then 27, dove from a boat on Oneida Lake when disaster struck. He broke his neck when he landed on his head, the impact damaging his spinal cord between the C6 and C7 vertebrae, the ones just above the shoulders, according to the Post-Dispatch.
"I thought I was going to drown because I could not move anything," Ficarra recalled three months later. "My first reaction was to swim to the top because I couldn't breathe. I was under water and I could see the top of the water. But I couldn't move anything."
The surgeon who operated on him had said that he would be paralyzed from his nipples down for the rest of his life. However, during his rehabilitation, there were promising signs: He had motion in his arms, could make a fist with his left hand and a partial fist with his right. And he could squeeze his rectum, "a sign that nerve impulses still can make it from his brain through his damaged spinal cord to his lower extremities," the Post-Dispatch wrote. Ficarra also recovered some sensation in his legs, and therapists who worked with him at the rehab center told him they could feel his feet push against them, even though Frank couldn't feel it himself.
He was eventually able to dress and feed himself without assistance, his dad told the Syracuse paper. "He promised me then he would somehow walk again," recalled Frank Ficarra.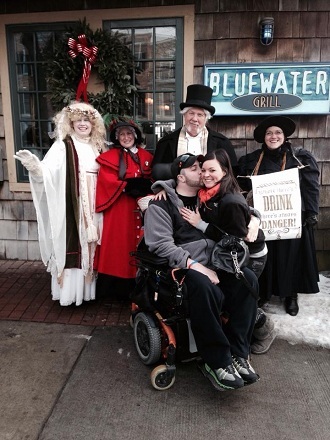 In December, when he and Basile got engaged, he vowed not to use a wheelchair at the wedding. "I told myself that I would walk with my bride down the aisle,'' Matt Ficarra said.
That promise was fulfilled thanks to an Ekso bionic suit that functions as a gait-training exoskeleton. The robotic equipment made by Ekso Bionics "[provides] a means for people with as much as complete paralysis, and minimal forearm strength, to stand and walk," the company says on its website. It "provides functional based rehabilitation, over ground gait training, and upright, weight bearing exercise under the supervision of a physical therapist."
As the battery-powered device was designed for use in a clinic setting, not for personal use, Ficarra drove seven hours roundtrip to Good Shepherd Rehabilitation Network in Allentown, Pennsylvania weekly starting in April so he could practice walking with the Ekso. Good Shepherd is one of 40 sites in the US where the device is being offered to approved individuals. While there, the groom-to-be broke the hospital's record for most number of steps taken in an hour with the bionic suit.
"Walking with the Ekso feels very natural,'' Ficarra said. "I was incredibly surprised at how easy it was to use. I hadn't walked in 2 ½ years when I first used it, and wow, it was great to be tall again. I'm 6 feet tall and I could be that height again."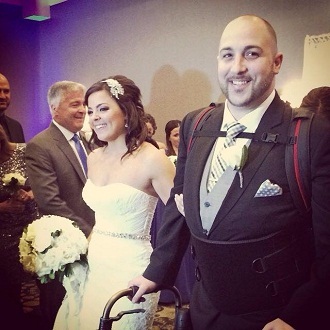 "It's an incredible feeling to walk with it," he added.
On Saturday, Nicole Smith, Ficarra's therapist at the Pennsylvania center, and Frank Hyland, Good Shepherd's vice president of rehabilitation services, brought the Ekso to Syracuse for the big day. They attended the wedding, walking behind him just in case he needed assistance. He was able to walk the entire length of the aisle himself.
"It feels great to be married!'' Ficarra exclaimed to the Post-Dispatch. "And I am so happy to have met my goal of walking at my wedding."
The groom's family members were ecstatic themselves.
"It's spectacular,'' said Frank Ficarra. "I am so proud of him. He's determined and he accomplishes what he sets out to do."
"He doesn't give up on anything," Matt's father, who also served as one of his three best men, added. "He's a gem."
The couple wrote their own vows. The bride described Ficarra as her "soulmate, companion and true best friend," and said her love for him is indescribable. She told him she will always love him "whether he is sitting or standing."
Ficarra and Basile began dating after his accident, according to CBS News. She told the national network, "It was his dream to walk down the aisle. I didn't care. I just want him by me for the rest of my life."
The family is raising money for Ficarra to buy his own Ekso ‒ with its $130,000 price tag ‒ through his You Caring site.