The Iron Man cometh: US Army commissions 'TALOS' suit with liquid armor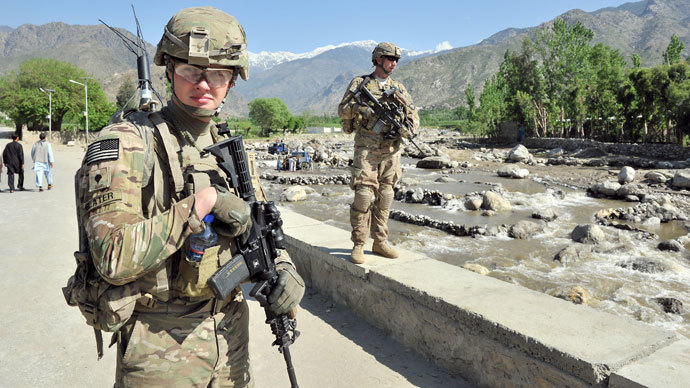 The fantastic fictional powers enjoyed by comic book superheroes and villains – including enhanced strength, night vision and resistance to bullets - may become a reality soon if the US military gets its way.
As if inspired by Marvel Comics itself, the Special Operations Command (SOCOM) has commissioned a Tactical Assault Light Operator Suit, or TALOS for short, which will likely contain liquid armor, a substance that is being developed at the Massachusetts Institute of Technology, according to the official website of the US Army.

The material can change from liquid to solid in milliseconds when a magnetic field or electrical current is applied, allowing a soldier wearing the protective suit to survive attack from heavy gunfire

The outfit is also expected to include its own internal supply of heat, air and oxygen.

Public discussion about creating a 21st century suit of armor for US soldiers increased following the US Army's failed mission last week in Somalia. Members of an elite Navy SEALS unit were forced to retreat in the face of heavy gunfire, while attempting to capture an Al-Shabaab commander believed to be connected to one of the 1998 US embassy bombings in Africa.

SOCOM, hoping to tap into a deep well of engineering talent, last month issued a request for ideas "from a wide variety of sources, not just traditional military industry but also from academia, entrepreneurs, and laboratories capable of providing the design, construction, and testing of TALOS related technologies."


Super soldiers?

US Special Operations Command chief Adm. William McRaven believes the technology will make US soldiers practically invincible on the battlefield.

"I'm very committed to this, I'd like that last operator that we lost to be the last operator we lose in this fight or the fight of the future, and I think we can get there," McRaven told industry representatives gathered at SOCOM headquarters in Tampa, Florida, last July to discuss the creation of the technology.

A combat simulation video that appears on YouTube features a soldier donning the Sci-Fi-like body armor smashing through a wooden door before staring down a hail of machinegun fire.

SOCOM hopes to incorporate a "comprehensive family of systems in a combat armor suit where we bring together an exoskeleton with innovative armor, displays for power monitoring, health monitoring, and integrating a weapon into that – a whole bunch of stuff," Lt. Col. Karl Borjes, an Army science advisor assigned to SOCOM, said in a statement.

TALOS will contain "full-body ballistic protections," as well as a "physiological subsystem" that covers the skin of the wearer and is embedded with sensors to monitor "body temperature, skin temperature, heart rate, body position and hydration levels," according to the government's May posting.

McRaven goes beyond anything Superman could have imagined, envisioning that the suit wearer's "cognitive thoughts and the surrounding environment to display personalized information."

And should a soldier suffer an injury despite the state-of-the-art suit of armor, "the TALOS would monitor their health and even stop bleeding using a "wound stasis" program such as one being developed by DARPA that sprays foam onto open injuries," John Reed, a military expert, wrote in Foreign Policy.

It is no secret that such technologies have been undergoing development for more than a decade. Defense contractors have been working on exoskeletons, for example, that would permit foot soldiers to carry more gear and run faster than they normally could on their own.

Lockheed Martin has been attempting to move its Human Universal Load Carrier (HULC) exoskeleton to Afghanistan where it will be combat-tested by troops, David Axe reported in Wired last May.

Not everybody, however, is so upbeat about the 'Iron Man' technologies being planned for American troops.

"My sense is it is an uparmored Pinocchio," Scott Neil, a retired Special Forces master sergeant and Silver Star recipient, told the Tampa Tribune. "Now the commander can shove a monkey in a suit and ask us to survive a machine gun, IED, and poor intelligence all on the same objective. And when you die in it, as it melts to your body, you can bury them in it!"

Neil then offered his thoughts on what would make the best type of suit for US soldiers.

"A business suit," he replied, arguing that after so many military misadventures abroad, US troops need "transitioning back to be ordinary Americans."