NHL defenseman Voynov arrested on domestic violence charges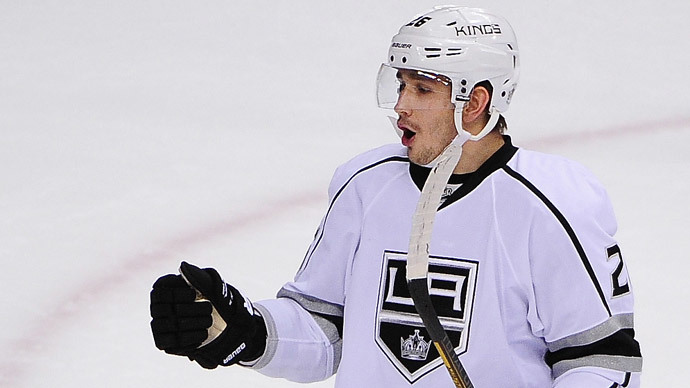 The National Hockey League said Monday that Slava Voynov, a Russian defenseman signed to the Los Angeles Kings, has been suspended indefinitely after being arrested for domestic violence earlier that morning.
In a statement, the NHL said that the league's collective bargaining agreement allows individuals to be suspended "during the pendency of a criminal investigation."
According to the league, Voynov, 24, was charged with domestic violence, a felony, but will continue to be paid pending an official probe.
"The League may suspend the Player pending the League's formal review and disposition of the matter where the failure to suspend the Player during this period would create a substantial risk of material harm to the legitimate interests and/or reputation of the League," NHL officials said in announcing the suspension.
ESPN said early Monday that Rolland Hedges, an agent for Voynov, declined to comment when reached by reporters that morning.
Mike Halford, a reporter for NBC Sports, noted that the latest news concerning Voynov marks the second time in as many seasons that a NHL athlete has landed in hot water; last season, he reported, Colorado Avalanche goalie Semyon Varlamov was arrested on second-degree kidnapping and third-degree assault charges, which were later dropped.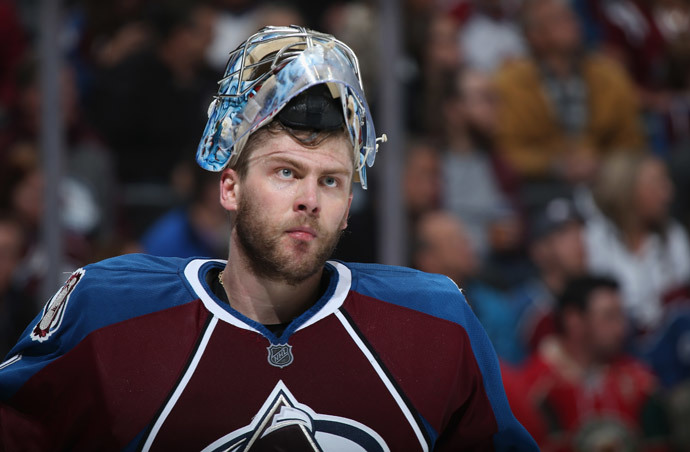 The Kings picked Voynov during the second round of the NHL draft in 2008, and in 2013 he reportedly signed a six-year, $25 million deal with the team. According to ESPN, he has two assists so far only six games into the season.
On September 8, the Baltimore Ravens cut Ray Rice, their star running back, after a February video of him knocking out his then-fiance (now wife) in an Atlantic City, New Jersey elevator was made public ‒ despite Rice's admission to the team of the incident when it first happened. The NFL, which had originally suspended the 27-year-old for two games (half the punishment for a player smoking marijuana), then declared Rice was suspended indefinitely.
Just four days later, a warrant was issued for Minnesota Vikings superstar Adrian Peterson on felony charges for reckless or negligent injury to a child.The 29-year-old running back had spanked one of his sons with a tree branch (or "switch"), resulting in numerous injuries to the child, including cuts and bruises to the child's back, buttocks, ankles, legs and scrotum, along with defensive wounds to the child's hands, KHOU reported, citing the police report. The Vikings wavered back and forth on suspending Peterson, but finally caved to public indignation and the threat of sponsors dropping the team, and placed him on the NFL's exempt list, barring him from all team activities until his child-abuse case is resolved.
The football league is also struggling with how to deal with two other, lesser-known players who have been accused of domestic violence, Carolina Panthers defensive end Greg Hardy and San Francisco 49ers defensive end Ray McDonald.
The NFL and the NHL are often linked when it comes to the results of their hard hits, including chronic traumatic encephalopathy (CTE), a degenerative brain disease, among their former players. Before this recent spate of domestic violence issues, neither league had an official policy on those types of cases. The NFL updated its personal conduct policy involving domestic violence incidents in late August after receiving blowback from fans on what many perceived as a slap on the wrist for Rice.
"I didn't get it right," Goodell wrote in a letter to the owners on the update. "Simply put, we have to do better. And we will." Goodell outlined a host of domestic violence reforms he would shepherd, according to ESPN. "Domestic violence and sexual assault are wrong," he wrote. "They are illegal. They are never acceptable and they have no place in the NFL under any circumstances."
On Monday, the NHL noted that a suspension may be warranted "where the failure to suspend the Player during this period would create a substantial risk of material harm to the legitimate interests and/or reputation of the League." If the NFL's struggles with domestic abuse are any indication, failing to suspend Voynov could certainly harm the league's legitimate interests and/or reputation.