Third-grader's anti-violence speech interrupted by deadly gunfire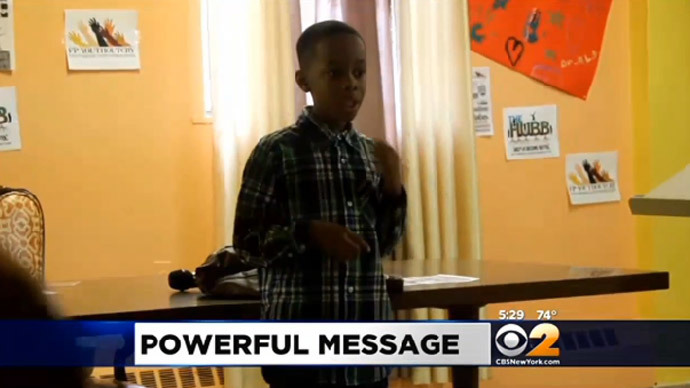 Third-grader Nyeeam Hudson was offering a passionate anti-violence poem at a community center in Newark, New Jersey on Saturday when gunfire rang out at a nearby housing complex, resulting in the shooting death of a young man.
Hudson, 8, kept talking through the incident, but sirens soon cut his plea short.
"I didn't know what it was at first, and when I found out I was like, 'man.'" Hudson told CBS 2.
The shooting occurred at a housing complex mere feet away from the HUBB, or Help Us Be Better, the community center where Hudson was speaking. No arrests had been made as of late Wednesday, according to CBS 2.
"As I was speaking about violence, violence happened, and I think as a people we can do better," Hudson told NJ.com of the shooting, which interrupted the "Poetry on the Move" program.
The anti-violence event was sponsored by non-profit organization FP YouthOutCry Foundation, Inc.
"We're always trying to do great and positive things and here it is once again, something negative is happening," Al-Tariq Best, founder of the foundation, told CBS 2.
Susan Schessler, director of development for the foundation, told NJ.com that in "the spirit of the HUBB," the group carried on with the event. Hudson's speech, she added, is one to remember.
"It was very powerful, because the kid was really talking about the simplicity of life and being happy with what we have, and that violence is turning people's heads and destroying lives. And then we hear this barrage of gunshots. It was such a stark contrast," said Schessler.
Hudson added to CBS 2 that he believes guns aren't the solution.
"I feel sad and sometimes I just think we can do better as a people and I wonder why," he said. "You don't need a gun to always solve your problems in certain situations."
Officials said Saturday's murder was the 70th in Newark so far in 2014, NJ.com reported.