Brooklyn man freed after serving 29yrs for false murder conviction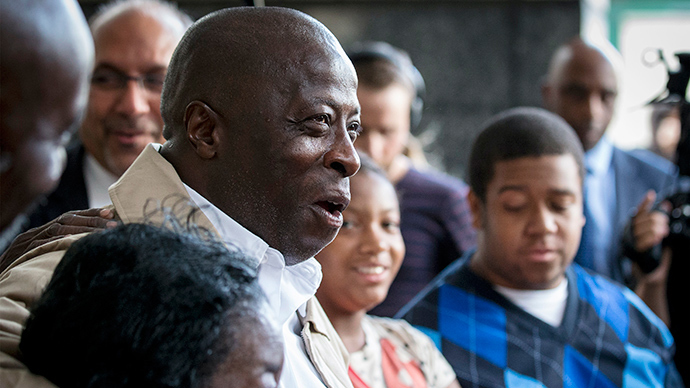 Coerced by police into a murder confession as a teenager, Brooklyn man David McCallum was finally released today after serving 29 years behind bars.
McCallum sobbed in court when his murder conviction was vacated on Wednesday, his head down on the Brooklyn Supreme Court defense table, according to New York Daily News.

"I'm very, very happy but also very sad…My life kind of starts from this day on," 45-year-old McCallum told reporters.

McCallum's innocence was the theme of a documentary that was released last year, titled 'David and Me.' Overturning his conviction even became the dying wish of famed boxer Rubin 'Hurricane' Carter, who was also wrongfully convicted for a triple murder and served 19 years in jail.
"McCallum put his head on the defense table and sobbed, his body shaking, as he heard the judge's words" — http://t.co/EjXOcZ7jXA

— The Slaves Singing (@williamcander) October 15, 2014
Back in October 1985, two 16-year-old, African-American teenagers – McCallum and Willie Stuckey – were arrested after Nathan Blenner was found shot dead in a Brooklyn park. Witnesses in Queens told police they had seen two men push Blenner into his Buick Regal and drive away.
Read More:NYC man dies after wrongfully spending 23 years in prison
Despite not matching the descriptions of the suspects, McCallum and Stuckey were arrested by police. Once in custody, the two both gave confessions naming each other as the gunman, but soon afterwards began asserting their innocence. The teenagers were ultimately convicted of kidnapping, armed robbery, and murder, and sentenced to 25 years in prison.

Brooklyn District Attorney Ken Thompson said on Wednesday that there was not a single piece of evidence that connected the two 16-year-old suspects to the crime – except for their brief confessions, which prosecutors have now concluded were false, according to the New York Daily News.

"In the interest of justice, I will ask the Court today to vacate the murder convictions of David McCallum and Willie Stuckey. After a thorough and fair review of the case by my conviction review unit and the independent review panel, I have concluded that their convictions should not stand and that Mr. McCallum should be released from prison," Thompson said in a statement.

Although McCallum lived to see himself cleared, Stuckey died in prison in 2001. His mother was in court on Wednesday, reported the Daily News.
Read More:1 in 25 death row inmates is likely innocent - study
The Innocence Project, which works to exonerate wrongfully convicted individuals, began working to overturn McCallum's case eight years ago. The problem with a wrongful conviction case is that parole is routinely denied to people who don't take responsibility for their crimes. A parole board doesn't rule on guilt or innocence, and if a convict does apologize for a crime they didn't do, they will be seen as a liar for having held out all through the years of the sentence.

Since taking office 10 months ago, District Attorney Thompson has vacated 10 cases for wrongful convictions. At a Wednesday press conference, he told reporters: "I inherited a legacy of disgrace with respect to wrongful convictions."
Read More: Wrongly convicted man released after 25 years because of Disney World hotel receipt
You can share this story on social media: