US investigating Chinese purchase of Waldorf Astoria hotel
Published time: 15 Oct, 2014 03:03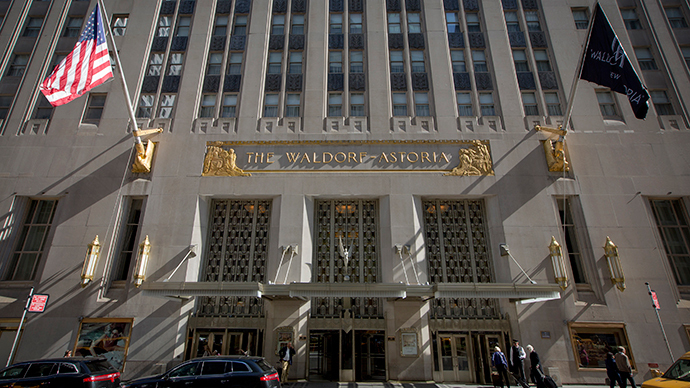 The president of the United States is a frequent guest of the Waldorf Astoria hotel in New York, and it also happens to be the residence of choice for US envoys to the UN – and now its sale to a Chinese firm is raising security concerns in Washington.
When Hilton Worldwide Holdings announced on October 6 that it was selling the regal Waldorf Astoria hotel and residences to the Beijing-based Anbang Insurance Group for $1.95 billion, it caught the attention of the US government. Now the purchase is under review.

The US is specifically concerned about security and spying, since the hotel has played host to US envoys to the United Nations for more than 50 years.

"We are currently in the process of viewing the details of the sale and the company's long term plans for the facility," Kurtis Cooper, spokesman for the US Mission to the United Nations, told Reuters on Tuesday.
Read More:'Core secrets' exposed: NSA used undercover agents in foreign companies
It will be the first purchase in the United States for Anbang Insurance Group. The company – which is controlled in part by members of China's ruling class and relatives of some Communist revolutionary leaders – was started in 2004 with seed money from nationalized industries like Sinopec oil. The company is headed by Wu Xiaohui, who is married to the granddaughter of Deng Xiaoping, the former leader of China, The New York Times reported.

"Any future decisions about the nature of that relationship (with the Waldorf Astoria) would need to factor in costs, the company's plans for the facility, the needs of the United States government and the US Mission to the UN, and any possible security concerns," Cooper said.

US Ambassador to the UN Samantha Powers also has a residence at the hotel, and it hosts many heads of state and government.
Read More:'Unjustified fabrication of facts': China slams US over FBI's hacking claims
Hilton Worldwide Holdings told Reuters that it would continue to manage the hotel for Anbang for the next 100 years and that the property would "undergo a major renovation to restore the property to its historic grandeur."
Read More:Historical shift: Japan & US beef up defense pact to counter 'China threat'
The deal is scheduled to close on December 31, but if the closing time is delayed, the sale must be finalized no later than March 31.