800,000 bees kill Arizona gardener in unprovoked attack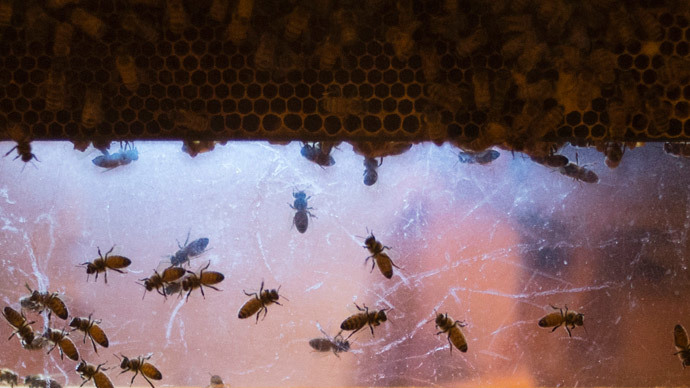 A gardener in Arizona has died after being dive bombed by a swarm of killer bees and another man was taken to hospital with 100 stings.
The 32-year-old victim was working on a house in Douglas near the Mexican border with three colleagues who were preparing to cut the lawn of a 90-year-old man when the bees struck.
They were working for a charity that provides work for people with learning difficulties and assists needy or elderly people in the community.
As soon as they turned on their lawn mower they were dive bombed by a huge swarm of bees from a hive which was concealed in the back of the house.
Two of the other gardeners who were not badly stung ran to a neighbor's house to call the fire service but when the emergency services arrived on the scene one of the men had collapsed and was already in respiratory arrest.
"A witness said his face and neck were covered in bees," Captain Ray Luzania, from the Douglas fire department, told the Arizona Republic.
The man, whose name has not been released, later died on arrival to hospital having suffered a heart attack. The second victim is believed to have been stung about 100 times before managing to escape and remains in critical condition in the hospital.
READ MORE: 5,000 bees chilled, shaved and microchipped in Australian study to prevent killer diseases
A third gardener and a neighbor were also attacked; in total seven people were stung according to the Douglas fire chief.
As soon as the area was cleared by the fire service, beekeepers moved in to destroy the hive.
"They were dropping down at me even before I started approaching it. That was before I started spraying and they were dive bombing me, and that's a sign to back off, back way off," Jesus Corellla, a pest control expert, told Tucson News Now.
Beekeepers had to move part of the roof to access the huge hive of bees, which they think may have been there for up to a decade and was home to about 800,000 bees.
"I mean it was probably a good two feet wide by six feet long, stuck right in the rafters of the eaves, in between the ceiling and the attic," Corella said.
Beekeepers and firemen then exterminated the hive with foam and pesticides.
Mario Nova, fire chief for Douglas, said he had never seen anything like it before.
"Nothing in this magnitude, we've never experienced anything of this magnitude," he told Tucson News Now.
READ MORE: Scientists confirm: Pesticides kill America's honey bees
There are about 40 fatal bee attacks in the US every year.
The danger is not the toxicity of the venom but that when killer bees are disturbed "they are more likely to pursue the source of disturbance more consistently," Dr May Berenbaum, a professor at the University of Illinois, told CBSNews.com.