5,000 bees chilled, shaved and microchipped in Australian study to prevent killer diseases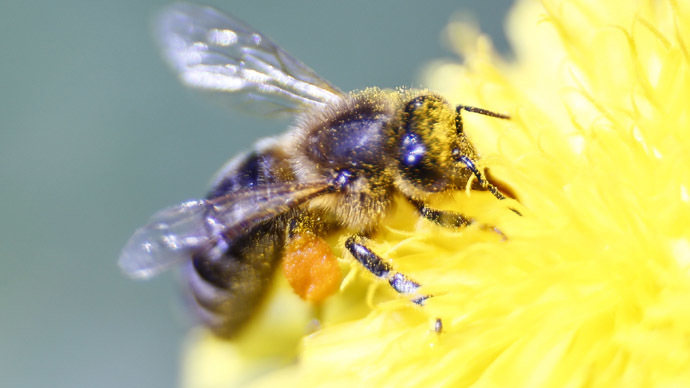 Australian scientists have attached small sensors onto thousands of honey bees to monitor their movements in a study aimed at stopping the spread of the illnesses that wiped out entire bee populations in the northern hemisphere.
The microchips, weighing about 5 milligrams and measuring 2.5 square millimeters, are glued to the bees after scientists at the Commonwealth Scientific and Industrial Research Organization (CSIRO) in Tasmania soothe the insects to sleep at 5 degrees Celsius.
Some young bees tend to be hairier than the older ones, so they are shaved.
A total of 5,000 bees will be included in the study, which is taking place over the Australian summer.
The study could help deal with the so-called colony collapse disorder, a situation where bees mysteriously disappear from hives, and the encroachment of the parasitic varroa mite, the researchers say.
Since 2006, CCD has caused the devastation of an estimated 10 million beehives at an average value of $200 each, according to the May report by the US Department of Agriculture, mainly due to the use of pesticides.
The experiment will also give farmers and fruit growers a chance to manage their crops better, as it will study the bee's role in pollination, CSIRO said in a statement.
"Using this technology, we aim to understand the bee's relationship with its environment," research project leader Paulo de Souza said.
The radio frequency identification sensors work like an electronic tag for cars on a toll road, recording when insects pass a checkpoint, and that will allow researchers to construct a 3D image of the insects' movements, a process described as "swarm sensing," Reuters reported.
The scientists are also working on diminishing the sensor to 1 square millimeter, so they can be glued to smaller insects, such as mosquitoes.
"This will be the largest study ever done of this kind, given that there will be 5,000 sensors. Two months is quite a long time to be studying them, too," De Souza told The Guardian newspaper.
You can share this story on social media: