'Beemageddon' delayed: Bumblebee reemergence puzzles scientists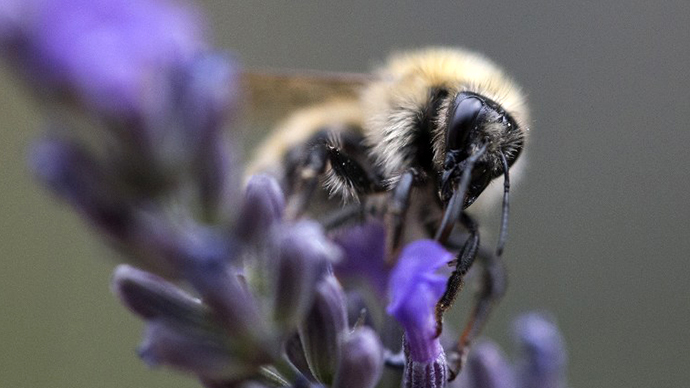 A disappearing North American bumblebee species has reemerged in Washington state, stunning scientists and conservationists who long feared that "Beemageddon" would cause the collapse of the agriculture industry.
The Bombus occidentalis, also known as the Western Bumble Bee, has disappeared from half of its natural range, but was recently spotted among the flowers of a park north of Seattle, Reuters reports.
Multiple sightings of the vanishing bee, including several queens, have instilled new hope that it could make a comeback in the Pacific Northwest.
"It gives us hope that we can do some conservation work, and perhaps the species has a chance at repopulating its range," Rich Hatfield, a biologist at the Xerces Society for Invertebrate Conservation, told Reuters, noting that the sightings are "a pretty big deal."
The Western Bumble Bee vanished from parts of the US more than a decade ago. Since their disappearance, the first sighting in Washington state occurred last year, when an insect enthusiast found such a bee in her garden. Earlier this month, Will Peterman, a 42-year-old freelance writer and photographer, captured photos of the Bombus occidentalis searching for nectar in a park in Brier.
Peterman returned to the park with a group of entomologists on Sunday, and took additional photos of some of the queen bees. He described the scientists' mood as "almost giddy" and "optimistic".
Scientists have attributed bumblebee declines to parasites, pesticides and habit fragmentation. Hatfield believes a deadly fungus might have contributed to the decline of the Bombus occidentalis. He now wonders whether the species has developed a resistance to this fungus, thereby repopulating the Pacific Northwest. 
Bees are crucial for the agriculture industry, since they pollinate crops such as tomatoes, cranberries, almonds, apples, zucchinis, avocados and plums. More than 100 types of US crops, valued at more than $200 billion each year, rely on bees to pollinate them.
A recent University of California study conducted by Berry J. Brosi, an assistant professor, and Heather M. Briggs, a graduate student, also found that the loss of bees could threaten certain types of plants and flower species that rely on pollination to produce their seeds.
The honey bee population has taken a particularly hard toll. The US is currently home to about 2.5 million honey bee colonies, which is a drastic decrease from the 6 million that existed in 1947 and the 3 million that existed in 1990.
Bumblebees have also faced dwindling populations, and an estimated 50,000 bees died in an Oregon parking lot in June, just days before National Pollinator Week.
"Bees across the country are not in as good a shape as last year," Eric Mussen, a University of California bee specialist, told the Christian Science Monitor.  But with the reemergence of the Bombus occidentalis in Washington state, "Beemageddon" might be delayed.
You can share this story on social media: