Thousands of bees die at start of National Pollinator Week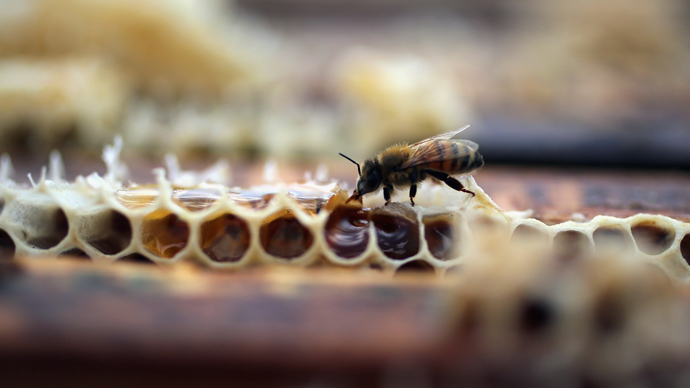 Days before National Pollinator Week, an estimated 25,000 bees were found dead in an Oregon parking lot. Some scientists attribute the mass die-off to pesticides, and worry that local crops may be affected.
"To our knowledge this is one of the largest documented bumblebee deaths in the Western U.S. It was heartbreaking to watch," Rich Hatfield, a conservation biologist at the Xerces Society for Invertebrate Conservation, said in a press release about the incident.
"They were literally falling out of the trees," he added, describing the mysterious scene at a Target parking lot in Wilsonville, Ore. Between Saturday and Wednesday, the bodies of about 25,000 dead bumblebees had littered the Target parking lot, perplexing scientists and conservationists.
The bees fell from the European linden trees, began twitching on the ground, and eventually died in the masses.
"I visited the site (June 19), and saw bees on the ground in the process of dying. It's a very unfortunate situation. Hopefully, (the Oregon Department of Agriculture) can provide some information," Kerry Rappold, a Wilsonville natural resources program manager, told the Portland Tribune.
The mass die-off coincided with National Pollinator Week, an annual celebration of pollinating species, designated by the US Department of Agriculture. From June 17-23, the department is raising awareness about the importance of bees, birds, bats, butterflies, and other pollinator species that are vital to agriculture and ecosystems.
 The bumblebee deaths served as an unfortunate disturbance to agriculturists who were participate in the weeklong celebration.
"I've never encountered anything quite like [this] in 30 years in the business," Dan Hilburn, director of plant programs at the Oregon Agriculture Department, told the Oregonian.
It remains unclear what caused the die-off, but Xerces Society executive director Scott Hoffan Black believes that pesticide are to blame.
"It seems a landscape company did not follow label directions as it is not supposed to be sprayed during bloom," he said. "We now assume this is the cause of the massive bee die-off. Lots of bees still dying — almost all bumblebees."
The state's agriculture department has collected some of the bodies to test for pesticides. Bumblebees are particular crucial for the pollination of blueberries and raspberries in Oregon, and it is possible that the incident could affect that crop industry. If the landscape company suspected of spraying pesticides violated any state or federal pesticide laws, the business could face fines ranging from $1,000 to $10,000.
The US honeybee population has been on the decline for years, suffering annual death rates of 30 percent. The widespread bee shortage is one of the biggest threats to the US agriculture industry. US officials have long been concerned about the economic ramifications of the dwindling population.  The latest mass die-off adds to an already-dire situation, slashing several hundred colonies from the few that are left.  
You can share this story on social media: