Terrorists within? FBI urges Americans to inform on 'suspicious' fellow citizens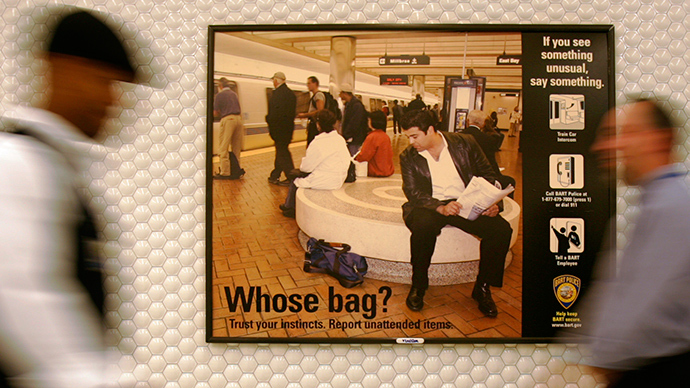 The FBI counter-terrorism division is calling on to Americans to report on fellow citizens engaged in suspicious activities to help identify possible terrorists, in the first place those connected to terrorist activities overseas.
In a statement published by the FBI on Tuesday, assistant director of the counter-terrorism division Michael Steinbach said the Bureau needs "the public's assistance in identifying US persons, going to fight overseas with terrorist groups or who are returning home from fighting overseas."
Any useful information about terror suspects can be sent to the FBI's website or by calling 1-800-CALL-FBI, the agency announced.
Steinbach also asked the American public to help identifying a man from a IS propaganda video aimed at appealing to a Western audience.
In the 55-minute video, a masked man addressed a group of alleged Islamic State prisoners in Arab and English.
"Dressed in desert camouflage and wearing a shoulder holster, the masked man can be seen standing in front of purported prisoners as they dig their own graves and then later presiding over their executions," the FBI said. His accent is believed to be North American, he added.
"We're hoping that someone might recognize this individual and provide us with key pieces of information," Steinbach said, adding: "No piece of information is too small."
There have been a number of arrests of terror suspects made on American soil since the 9/11 attacks in 2001. Dozens of American citizens in recent years have joined various terrorist organizations, such as Al-Qaeda in Yemen, Taliban militants in Pakistan or the Al-Shabaab terrorist group in Somalia.
Yet now there is a new global international terrorist organization called the Islamic State (also known as ISIS or ISIL), that has captured large areas of Iraq and Syria, and is fighting with all of its neighbors: the Iraqi army, the Syrian army and Kurdish Peshmerga self-defense forces.
On Saturday, the FBI arrested Mohammed Hamzah Khan, 19, at Chicago's O'Hare International Airport, who was preparing to board a flight to Vienna with the alleged intention of traveling to Syria via Turkey, and of joining the Islamic State terrorist organization.
"We are all witness that the western societies are getting more immoral day by day," Khan wrote, explaining his motivations in a three-page letter to his parents discovered in his bedroom by FBI agents. "I do not want my kids being exposed to filth like this," he wrote, the AP reported.
As of August, there were a reported 12,000 militants from 50 nations fighting in the ranks of the Islamic State militia, the US State Department estimated.
You can share this story on social media: