No charges against SWAT officers who maimed toddler during raid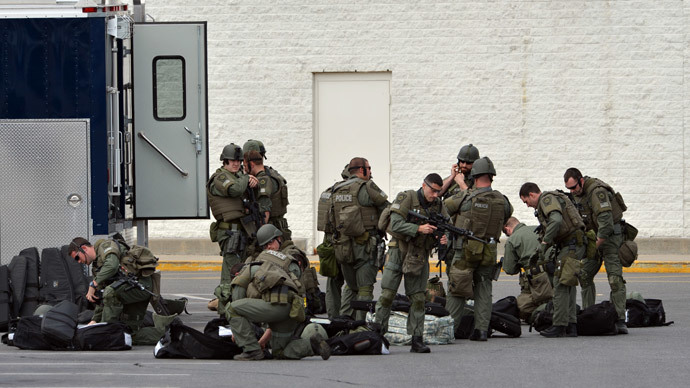 Georgia law enforcement officers responsible for a bungled SWAT raid that left a toddler burned and disfigured will not face criminal charges, a grand jury has decided. The case is now being reviewed by federal officials.
News of the decision first broke on Monday, when a 23-person grand jury in Habersham County, Georgia, called the investigation "hurried and sloppy" but chose not to indict any officials involved in the SWAT operation's planning or execution, the Atlanta Journal-Constitution reported.
During the May drug raid, 19-month-old infant Bounkham "Bou Bou" Phonesavanh had his face severely burned and disfigured after a flashbang grenade landed in his playpen while he was asleep. The baby – who underwent more than one surgery as a result of his injuries – had his nose detached from his face and suffered from an open gash in his chest as well as a collapsed lung.
READ MORE: Family of baby burned by SWAT grenade demands federal investigation
"This is unbelievable to me," said father Bounkham Phonesavanh to the Journal-Constitution. "I just don't understand how or why the grand jury would not charge any of these officers for what they did to us. It hurts me to see my family suffer like this and for them to do nothing."
One day later, the US Attorney's office announced it is considering charges of its own against the officers who conducted the raid.
"Federal authorities have been participating in the investigation of this terrible incident, and now that a state grand jury has declined to return an indictment, we will review the matter for possible federal charges," United States Attorney Sally Quillian Yates said to the Journal-Constitution in a separate article.
At the time of the failed raid, the SWAT team was serving a no-knock warrant as it attempted to apprehend Wanis Thometheva, who was believed to be selling methamphetamine. Police said they believed the suspect could be armed, and that a confidential informant had successfully purchased drugs from him earlier in the day. When the raid began, though, Thometheva was not at the home. Instead, Bou Bou's three sisters and parents were inside, along with the baby himself.
Thometheva was arrested later – away from the house in question – and was found to not be living at the home where the raid was conducted. He was charged with possession.
Partly as a result of Bou Bou's tragic injuries, the incident raised concerns over the use of no-knock warrants, which allow officials to initiate raids without warning those inside of a household. The Phonesvanh family said in June that if police did have an informant visit the house earlier that day, they would have realized there were children in the building.
READ MORE: Toddler burned by SWAT grenade faces another surgery, as police defend raid
You can share this story on social media: