Toddler critically burned when SWAT team throws flashbang in crib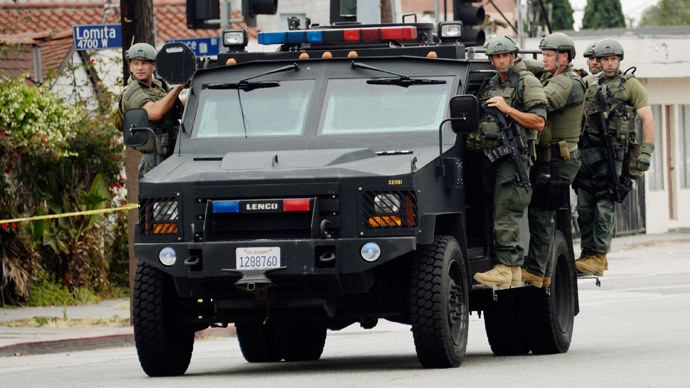 A toddler is in a medically induced coma after a SWAT team raided the family's home and threw a flashbang grenade into his crib, the boy's mother said. With a 50 percent chance of survival, it could be weeks before it's known if he will even live.
Bounkham "Bou Bou" Phonesavanh, a 19-month-old, was asleep in his portable crib in the same room as his parents and three older sisters, when police opened the door to the converted garage and threw the stun grenade in. It landed in the crib with Bou Bou.
"Everyone's sleeping. There's a loud bang and a bright light," the boy's mother, Alecia Phonesavanh, told WSB-TV. "The cops threw that grenade in the door without looking first, and it landed right in the playpen and exploded on his pillow right in his face."
The multi-jurisdictional Georgia SWAT team was executing a no-knock warrant at 3 a.m. on the home where a confidential informant had purchased drugs earlier in the day. The CI said he bought methamphetamine from Wanis Thometheva there on Tuesday. Police told the Atlanta Journal-Constitution that investigators had discovered Thometheva had weapons (including an AK-47) during a previous arrest on drug charges.
"That's the threat he uses to those who don't do what he wants," Habersham County Sheriff Joey Terrell said to the AJC.
But Thometheva wasn't in the home when the police raided. Instead, the Phonesavanhs were there, sleeping. They were only supposed to be in Georgia temporarily after a fire at their Wisconsin home, the family said.
"We have nothing to do with this (drugs)," father Bounkham "Bou" Phonesavanh told the AJC.
The police department said they had no idea there were any children in the house. "There was no clothes, no toys, nothing to indicate that there was children present in the home. If there had been then we'd have done something different," Cornelia Police Chief Rick Darby said to WSB-TV.
"You're trying to minimize anything that could go wrong and in this case the greatest thing went wrong," Darby said. "Is it going to make us be more careful in the next one? Yes ma'am, it is. It's gonna make us double question."
Terrell told the AJC that a medic began performing first aid on Bou Bou before the child was transported to the hospital, but he was unable to be transported by helicopter due to unsafe weather conditions.
"The last thing you want is law enforcement to injure someone innocent," Terrell said. "There was no malicious act performed. It was a terrible accident that was never supposed to happen."
Thometheva was later arrested at a different home on a felony drug charge of distribution of meth, the AJC reported.
In the meantime, Bou Bou is fighting for his life in the hospital. "He's in the burn unit. We go up to see him and his whole face is ripped open. He has a big cut on his chest," his mother said to WSB-TV. "He's only 19 months old. He didn't do anything."
"Our hearts are broken with them because of the child," Terrell said.
The family does not have insurance and does not know where they will live during the minimum six weeks Bou Bou will be in the hospital. A family friend has created an online fund-raising page to help with costs.
You can share this story on social media: