Family of baby burned by SWAT grenade demands federal investigation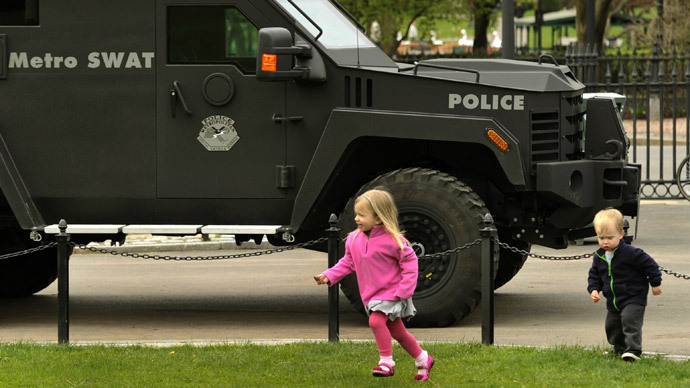 After a SWAT team raid in Georgia left a toddler in a medically induced coma and fighting for his life, the infant's family is demanding a federal investigation into the incident.
Bounkham "Bou Bou" Phonesavanh was just 19 months old when a SWAT team in Habersham County, Georgia, initiated a no-knock warrant at his family's home around 3 a.m. in the morning. Bou Bou was asleep in his crib at the time, surrounded by his family and three sisters, but was severely injured when SWAT team officers broke through the house's door and threw a flashbang grenade that ultimately landed in the baby's crib.
When the stun grenade went off, it caused severe burns on the child and opened up a gash in his chest. As a result, the Bou Bou lost the ability to breathe on his own and is still fighting to make it through a medically induced coma. He was scheduled for surgery on Monday, but a fever delayed the operation.
According to the Associated Press, the family is now pushing for a federal investigation into the raid. Meanwhile, Habersham County District Attorney Brian Rickman told the news service that his office is currently looking into whether criminal charges will be imposed on any of the officers involved.
"Anytime you look at pictures of a child injured like that, it's awful," Rickman said. "Everybody's heart goes out to the family. We've just got to do our job here."
The incident has also called into question the use of no-knock warrants, which permit law enforcement officials to conduct raids without warning those inside of their presence. Despite statements by Habersham County Sheriff Joey Terrell suggesting the raid was authorized, Rickman stated this was not the case, and that the Georgia Bureau of Investigation had not approved the raid either.
One state senator, Vincent Fort, said he will ask the US Attorney's Office to get involved with an investigation of its own.
"At this point when you look at these pictures, when you hear what was done, the public's confidence in the district attorney to conduct an objective investigation — the public's confidence in that is nil, it's gone, it's not there," he told the AP.
As RT reported previously, the SWAT conducted the raid as part of an effort to apprehend Wanis Thometheva, believed to be selling methamphetamine. Police said that their records indicated the suspect could be armed, and that a confidential informant had successfully purchased drugs from him earlier in the day. At the time of the raid, however, Thometheva was not at the home, and was eventually arrested elsewhere.
Additionally, an unnamed public official told the Washington Post that the reported drug deal was worth only $50.
Police stated they did not know children were inside the house, but Bou Bou's mother, Alecia Phonesavanh, said that was unlikely if they had valid information on their suspect.
"If they had an informant in that house, they knew there were kids," Phonesavanh told The Atlanta Journal-Constitution Friday. "They say there were no toys. There is plenty of stuff. Their shoes were laying all over."
The family's attorney, Mawuli Mel Davis, also criticized police for lax surveillance methods, but sheriff Terrell said the family knew Thometheva was involved with drugs and that complicated the situation for the agency's informants.
"They [told us they] knew that the homeowner's son was selling meth, so they kept the children out of sight in a different room while any of these going-ons were happening," Terrell said. "So when [our confidential informants] did go up and buy drugs at the house, they didn't see any evidence of children in the home."
The Phonesvanh family said it was not involved with drugs at all, and was only staying with Thometheva because their Wisconsin home was damaged in a fire. At the time of the raid, they were making plans to move back to Wisconsin.
You can share this story on social media: