​'That's sex crime!' Jennifer Lawrence breaks silence on celebrity nude leak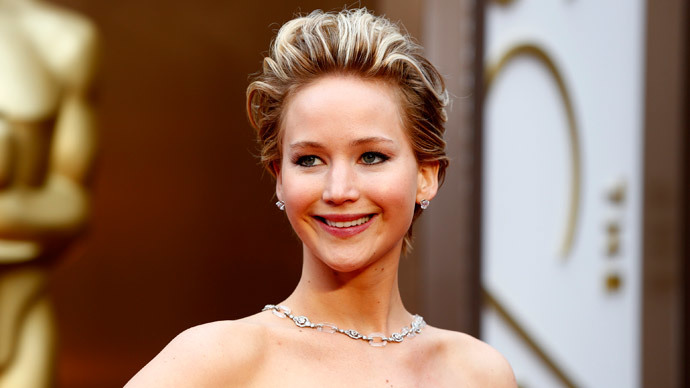 Hollywood star Jeniffer Lawrence has called the mass leak of nude celebrity photos "a sex crime" as the Oscar winner spoke out for the first time since the first release of private pictures exposed dozens of people.
"It is not a scandal. It is a sex crime," she said. "It is a sexual violation. It's disgusting. The law needs to be changed, and we need to change. That's why these websites are responsible," Lawrence told Vanity Fair magazine.
The 24-year-old actress also believes that everyone, who looked at the photos are also to blame as they "perpetuated a sexual offense."
Just another example of how badass Jennifer Lawrence is. I have the utmost respect for her. @voguemagazine@vanityfair http://t.co/F1SbWhPEGP

— Alison Sudol (@AlisonSudol) October 8, 2014
On August 31, unidentified hackers released the first batch of nude celebrity pictures. Culprits allegedly broke into iCloud accounts and stole private photos of hundreds of people. The images of Lawrence and many of her colleagues were then made available to the general public via 4Chan online forum.
The Hunger Games star's publicist at the time said that the leak was "a flagrant violation of privacy," adding that "anyone who posts the stolen photos of Jennifer Lawrence" will be prosecuted.
Jennifer Lawrence is buckets of awesome. http://t.co/LCyZCWelBSpic.twitter.com/jCOHT7j1ht

— Steve Marmel (@Marmel) October 7, 2014
Lawrence decided not to issue a statement over the incident "every single thing that I tried to write made me cry or get angry," she said.
"Just because I'm a public figure, just because I'm an actress, does not mean that I asked for this. It does not mean that it comes with the territory. It's my body, and it should be my choice, and the fact that it is not my choice is absolutely disgusting. I can't believe that we even live in that kind of world," the actress said.
Besides Lawrence, such stars as Mary-Kate Olsen Kate Bosworth, Selena Gomez, Kate Upton and Kirsten Dunst, were exposed in the initial leak.
Several weeks later, a second wave of naked images saw photos of the likes of Kim Kardashian and Rihanna emerging online. The "third round" of nude photo leaks late September added top model Cara Delevingne, actress Anna Kendrick and more of Jennifer Lawrence to the mix.
The fourth round of leaks added the first male celebrity to the list of the victims of the ongoing scandal. Photos of 24yo Nick Hogan, the son of the pro-wrestler Hulk Hogan, were released among pictures of Victoria's Secret model Erin Heatherton, actress Winona Ryder and singer Ingrid Michaelson. Hogan however says the photos are fake.
The FBI and Apple, which provides the iCloud service, are both conducting investigations into the leaks. Apple however cannot be directly blamed, as the only criticism of iCloud is its vulnerability to a brute force-hacking problem where the culprit could have infinite number of tries to guess a user's password.
You can share this story on social media: