Cultivated lie? Most US food labeled 'natural' contains GMOs, watchdog says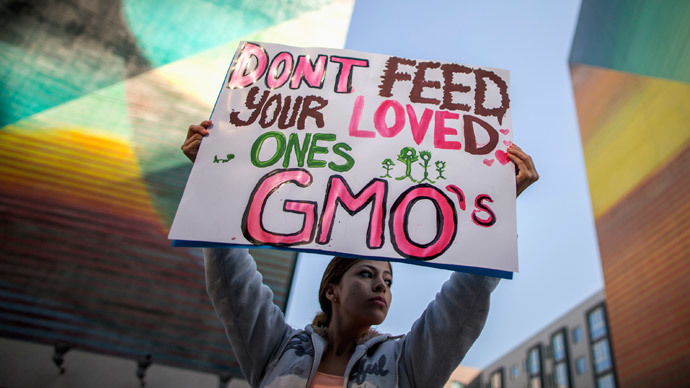 Nearly all US packaged food with a "natural" label in fact contains high levels of genetically modified ingredients, tests by the product testing watchdog Consumer Reports reveal.
Consumer Reports said its study included more than 80 different processed foods containing corn or soy – the two most prevalent genetically modified crops in the US – to determine if the "natural" labels was in fact true, Reuters reports.
The conclusion: consumers are being deceived by the "natural" label, Urvashi Rangan, executive director of Consumer Reports Food Safety and Sustainability, told the agency.
While the "non-GMO" and "organic" labels proved trustworthy, the study found that nearly all of the food bearing the natural "label" contained substantial amounts of GMO ingredients. The watchdog tested a minimum of two samples from each of the 80 products, which were purchased between April and July 2014.
READ MORE: Billion-dollar lawsuits claim GMO corn 'destroyed' US exports to China
Products considered to be GMO-free contained no more than 0.9 percent genetically modified corn or soy, a stricter standard than that employed by the US government.
Current US Department of Agriculture regulations allow food products that contain 95-100 percent certified organic ingredients to use the USDA Organic seal.
Consumer Reports has long spearheaded a campaign to eliminate the "natural" label from grocery shelves.
In August, the Consumer Reports National Research Center conducted a national survey of more than 1,000 Americans which found that "more than 75 percent attribute specific meaning to the word, such as contains no artificial ingredients, artificial colors, or genetically modified organisms (GMOs)."
That included the mistaken belief that livestock was not given antibiotics or growth hormones if its meat was labeled "natural."
The Grocery Manufacturers Association (GMA), however, which represents hundreds of the world's largest food brand producers, is fighting back. In December, the association announced its plans to lobby the FDA to allow foods made with genetically modified products to be labeled as "natural".
The study comes less than a month before Oregon voters vote on Measure 92, which would require foods containing GMO to be labeled. Oregon is one of 20 states currently mulling measures that could make GMO-labels mandatory for genetically modified foods. Colorado will also weigh in on GMO labeling this November, as voters will consider Proposition 105.
See where the money in Oregon's #GMO labeling measure campaign is coming from. #orpolhttp://t.co/bb2Xd4oMoKpic.twitter.com/gNWTgjMxNu

— Mark Friesen (@mfriesen) October 3, 2014
Polling has suggested that over 90 percent of Americans would prefer GMO ingredients in consumables to be labeled to some extent.
Vermont passed legislation in May that mandates GMO-labeling in foods beginning in July 2016.
A recent study conducted by ECONorthwest found that mandatory labeling of genetically-engineered foods available to consumers would result in a cost increase of $2.30 per person each year.
You can share this story on social media: