In facts & numbers: Absolute majority of Americans want GMO food to be labeled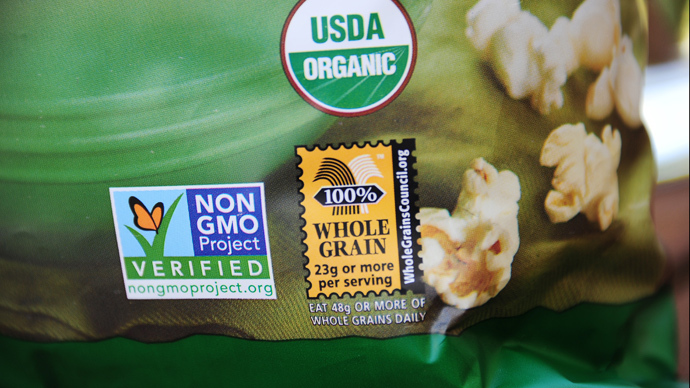 Polling suggests that an absolute majority of Americans favor laws forcing foods containing genetically modified ingredients to be labeled as such. Despite the support, however, states continue to reject these initiatives.
Late last month, advocates in Colorado filed the preliminary paperwork necessary to land a GMO labeling bill on the ballot in 2014. If voters there agree to mandate appropriate labels on lab-made food products, Colorado will join Connecticut and Maine as being the only locales within the United States to approve such efforts. But while polls conducted during the last several years suggest an overwhelming majority of Americans — close to 100 percent, in some cases — are pro GMO labeling, initiatives across the country have already failed, and supporters of these measures believe it's because their opponents are investing big bucks to buy the outcome.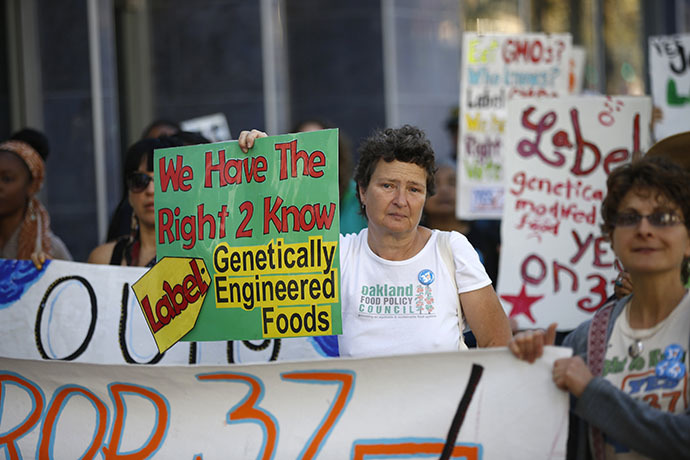 A poll conducted by the New York Times this year found that 93 percent of respondents want GMO ingredients to be properly labeled, and a similar survey done by the Washington Post in 2010 clocked in with 94 percent support.
"Surveys have always found 80 to 95 percent of people wanting labeling," Consumers Union senior scientist Michael Hansen told Rodale News back in April." People are paying attention to food, and because of that they're more interested in GMO issues and buying food that's more local and food without pesticides and other added ingredients."
Even with polling results backing up Hansen's assumption, time and time again GMO labeling initiatives up for vote in the US have failed in recent months, even in instances when those measures were previously all but expected to pass.
Last year, for example, a GMO-labeling initiative up for vote in California was favored by 66.9 of likely voters according to a late September poll. As election day neared, however, a high-priced "Vote No" campaign sponsored by the likes of biotech giants Monsanto and Dupont — as well as Pepsico, Bayer, Dow and Syngenta — pulled in a total of $45 million worth of contributions used to power an ad blitz that ultimately allowed the labeling bill to be shot down by a single-digit margin of percentage points.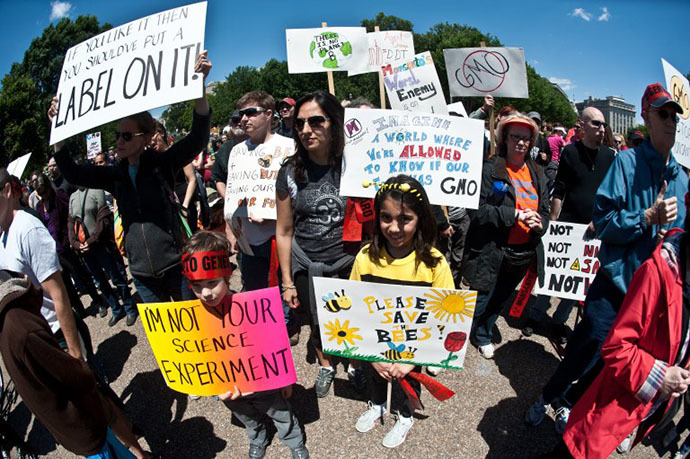 Then in Washington last month, voters decided by barely a 10 percentage point margin to reject an initiative requiring GMO labeling there that USA Today called "the most expensive" in state history. One month prior to election day, a poll determined that 66 percent of Washingtonians supported that bill, but that number dwindled by 20 percentage points within weeks as Monsanto and company again raised millions towards fighting off the measure.
Meanwhile, the recently-passed labeling laws in Connecticut and Maine might not officially end up on the books anytime soon — if at all — according to Maxx Chatsko at The Motley Fool. As he noted in a report last week, that legislation requires that four other northeastern states with a combined population of at least 20 million enact similar laws first in order for the already-passed measures to be enforced.
"Even if all nine Northeastern states pass GMO labeling laws, the total population of states involved will only represent 18 percent of all United States residents," Chatsko wrote. "Now, that could very well open the door to a national conversation on GMO labeling, but food manufacturers would likely take issue with such legislation. We could very well see this debate end up in a courtroom."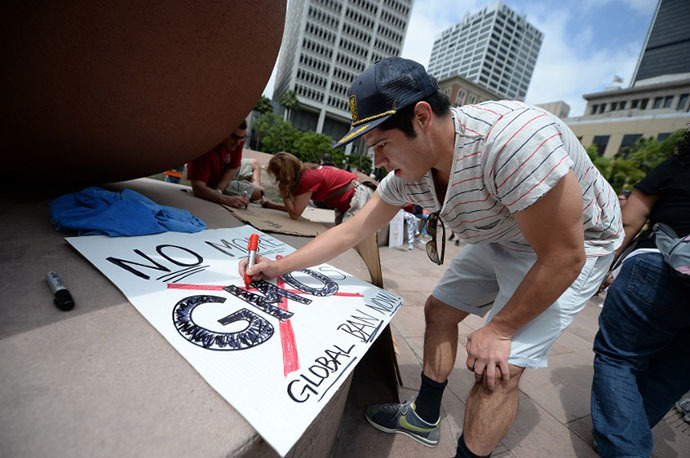 Until then, though, that debate is already occurring in countless locales not just in the US, but around the world. An international day of action in May was scheduled in 36 different nations to show opposition to GMOs and the tactics employed by those involved in the industry, particularly Monsanto. A second global "March Against Monsanto" has since occurred in October, helping propel what was once a grassroots movement on the fringe to a very real fight being fought by millions of activists around the world.
That isn't to say that Monsanto hasn't already had their fair share of legal battles in courtrooms across America, either, and even recently was awarded a major victory in the US Supreme Court. In a case before the high court this past May, the country's top justices said a 75-year-old soybean farmer had violated the terms of a patent-protected GMO soybean crop manufactured by Monsanto by replanting seeds after an initial harvest. Elsewhere Monsanto has found themselves in-and-out of legal trouble, but has largely escaped unscathed with the assistance of a powerful fleet of attorneys, often no match for any underpaid lawyers retained by opponents of the billion-dollar biotech giant. Others have even accused the company of using their high-powered legal counsel to fight small-time farmers into submission, and a law passed by Congress earlier this year further generated criticism after it reportedly relieved Monsanto from future litigation brought on by untested GMO products.
Even still, additional opposition aimed at Monsanto has accumulated not due to the company's legal tactics, but their potentially damning impact on the Earth and environment. Last year researchers from the University of Caen said that rats fed a seed variety made tolerant to amounts of Monsanto's Roundup weedkiller developed tumors and died earlier than those on a standard diet, and officials in Germany, France and Italy have all proposed national bans on GMOs.
Despite opposition around the globe, a report released by Monsanto in late October claimed the company's net sales increased by 10 percent between fiscal years 2012 and 2013.
You can share this story on social media: