Pentagon to deploy upwards of 4,000 troops to West Africa amid Ebola epidemic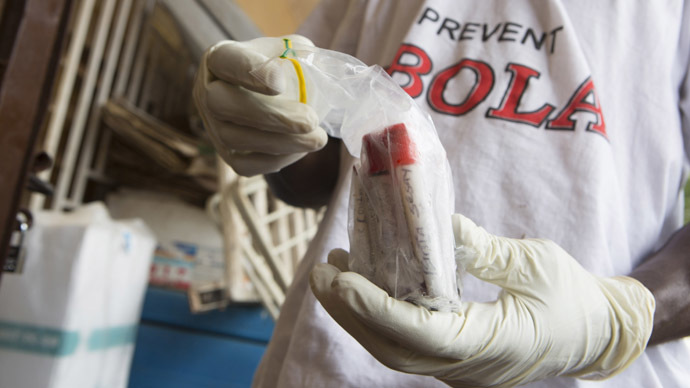 The United States may send nearly 4,000 troops to West Africa in the coming weeks in an effort to contribute relief in the fight against the Ebola virus outbreak in the region, according to the Pentagon.
With around 200 US military personnel already in the region, Pentagon press secretary Rear Adm. John Kirby announced earlier this week that the Department of Defense was planning on sending on sending 1,400 reinforcements to Liberia, of which around half will consist of combat engineers tasked with coordinating the construction of 17 Ebola treatment centers that will supply a total of 1,700 beds.
On Friday, Kirby updated that figure and said around 3,600 troops in all could be coming to West Africa.
"We project that there could be nearly 4,000 troops deployed in support of this mission but we are obviously assessing the requirements on a daily basis," Kirby said, according to Reuters.
Earlier this week, Stars and Stripes reported that installations sending troops for this effort include the 1st Armored Division at Fort Bliss, Texas, and Joint Task Force Carson at Fort Carson, Colorado,
The other half of the initial 1,400-troop surge, from the 101st Airborne Division based at Fort Campbell, Kentucky, will make up the headquarters staff of a joint forces command center.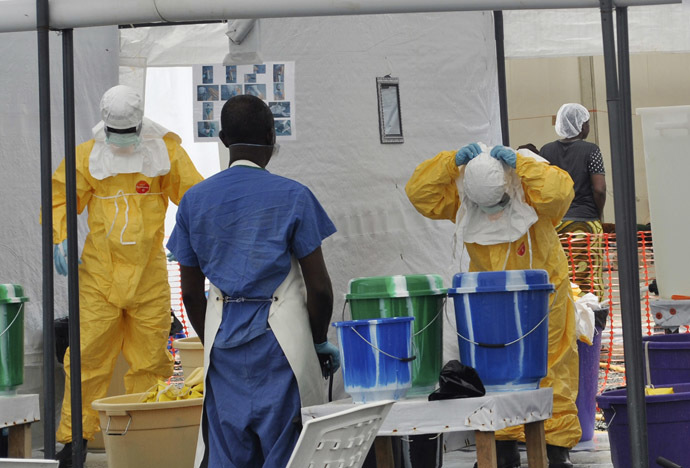 The 1,400 troops will arrive "in waves," Kirby said, to assist in logistical support and construction of medical-treatment facilities.
The virus isspreading rapidly in the West African countries of Guinea, Liberia, and Sierra Leone, claiming more than 3,000 lives since March, according to the World Health Organization. Smaller outbreaks have occurred in Nigeria and Senegal.
Kirby said the troops headed to West Africa will receive full training on how to protect themselves against the virus before they arrive on the ground. They will be sent with full protective gear and are not expected to be in contact with patients, he added.
"US military personnel are not and will not be providing direct care to Ebola patients," he said.
Kirby asserted that the US military is deploying troops and equipment to the affected region as quickly as it can, and that the Pentagon has only a supporting role to the State Department's US Agency for International Development, which is coordinating the US government's relief role.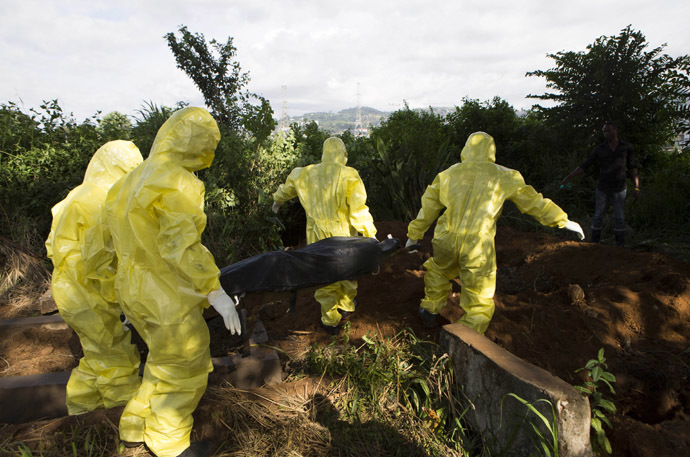 US President Barack Obama first pledged US military assistance to fight the Ebola outbreak in mid-September, as RT previously reported.
This week, the first Ebola patient diagnosed in the US was treated in Dallas aftertraveling from his native Liberia. In addition, an NBC News cameraman was also diagnosed with the virus while on assignment in Liberia. He, a US citizen, is being sent back to the US for care.
Meanwhile, the chief of the United Nations' Ebola mission said on Tuesday that the situation is a race against time, and that the epidemic is the worst disaster he has ever witnessed.
"The longer it moves around a human hosts in the virulent melting pot that is West Africa, the more chances increase that it could mutate," Anthony Banbury, the Secretary General's special representative, told The Telegraph. "It is a nightmare scenario [that it could become airborne], and unlikely, but it can't be ruled out."
You can share this story on social media: