California becomes first US state to ban plastic bags
California has become the first American state to ban the use of plastic bags for environmental reasons – but critics argue the policy will cost jobs.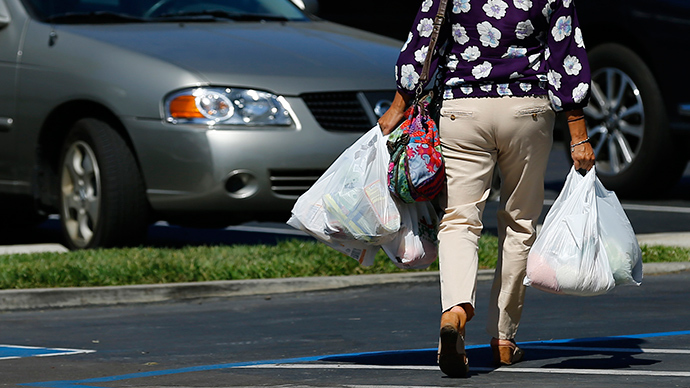 Under the new law, plastic bags will be banned in phases. Grocery stores and pharmacies will be required to stop handing out disposable bags by July 1, 2015. Afterwards, customers will be charged 10 cents for paper bags or reusable plastic bags. By 2016, convenience stores and liquor stores will have to do the same.

"This bill is a step in the right direction – it reduces the torrent of plastic polluting our beaches, parks, and even the vast ocean itself," said California Governor Jerry Brown on signing the milestone bill into law. "We're the first to ban these bags, and we won't be the last."

The law allows exceptions for the purchase of meats, fruits and vegetables, and authorizes local governments to impose fines of up to $5,000 on businesses that violate the rule.

Environmental advocates claim that single plastic bags pollute rivers, oceans, parks, and beaches, adding that they are dangerous to animal life and don't easily decompose. They also clog city storm drains, costing municipalities millions of dollars to clean up.
READ MORE: NYC stages world's 'biggest ever' climate change march (PHOTOS, VIDEO)
While the ban was supported by the majority of lawmakers and environmentalists, there were dissenters too.

"It was a backroom deal between grocers and union bosses to scam California consumers out of billions of dollars without providing any public benefit, all under the guise of environmentalism," said Lee Califf, executive director of American Progressive Bag Alliance, a coalition of plastic bag manufacturers.

Califf claimed the law will lead to people losing their jobs, and higher charges for consumers.

The coalition has promised to overturn the law by referendum, a process which will require them to gather 500,000 signatures in three months to put the issue on the November ballot for voters to decide, according to The Weather Channel.
READ MORE: Bee studies feel sting of pesticide manufacturers – MPs
However, with a third of Californians already living under city ordinances and laws banning plastic bags, anti-pollution advocates argue people will adjust to the statewide ban, adding that they don't anticipate the referendum to be successful.

"The more the public sees the policy, the more they like," Mark Murray, executive director of Californians Against Waste, told the Sacramento Bee. "Once it's implemented in your community, your support for it grows."

About 100 California cities and counties already have partial or full prohibitions on plastic bags, with San Francisco being the first city to issue a ban in 2007. Cities in the rest of the US are starting to follow suit as well – Austin, Chicago, and Seattle have implemented partial bans – and similar measures are being considered by lawmakers in Massachusetts, New Jersey, New York, and Rhode Island. Hawaii could be the next state to move forward with a total ban.
READ MORE: Decline in wildlife aggravates human conflict – study
You can share this story on social media: