Five airline workers charged with smuggling cash past TSA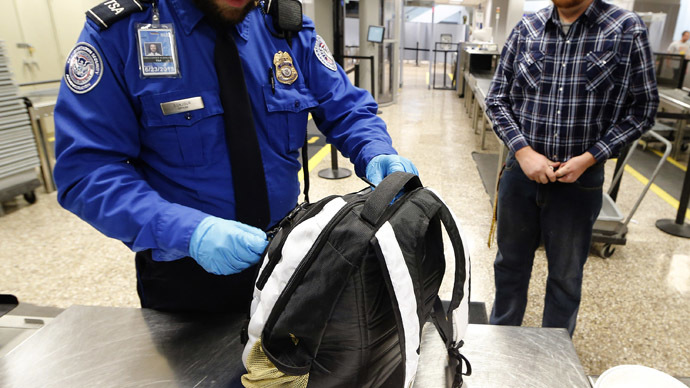 Five US airline employees have been charged with smuggling over $400,000 in cash, which they believed to be drug money, past TSA checkpoints following a sting operation at Boston's Logan International Airport.
The five JetBlue/Delta airline employees, in their 20s and 30s, were charged on Thursday of money laundering and intending to defraud the United States, and could face sentences of up to two decades in jail.
On nine separate occasions, Delta "The Most Trusted Airline" and Jet Blue "You Above All" employees smuggled large amounts of cash from non-secure airport areas to secure areas at Boston's Logan. In two instances, the employees also smuggled cash aboard commercial airline flights. Authorities say the men received money from a cooperating witness and thought they were smuggling $417,000 in cash from drug sales.
The suspects were caught through an 18-month long sting operation organized by the Massachusetts Attorney General's office using a cooperating witness, and arrested on May 29, 2014.
READ MORE: Smuggler tries to cross US-Canada border with 51 turtles in his pants
"Security at our nation's airports is paramount and the conduct alleged today is alarming. Thanks to the hard work and commitment of the federal and state investigators and airline security personnel, a potentially dangerous breach in security was identified," said Carmen Ortiz, Massachusetts Attorney General.
A spokeswoman for Delta, Liz Savadelis, said the airline cooperated in the investigation.
"Delta's values include that employees keep a strict adherence to all security protocols and to not engage in unlawful conduct," Savadelis told The Boston Globe. A JetBlue representative could not be reached for comment.
JetBlue ground crew members were Rupert Crossley, 25, of Lynn; Alvin Leacock, 27, of Hollywood, Fla.; Eric Vick, 24, of Boston; and Anthony Trotman, 24, of Boston, with Delta Air Lines customer service ramp agent Dino Dunkley, 31, of Boston, according to prosecutors.
READ MORE: Spanish police nab woman smuggling 1.7kg cocaine in breast implants
In addition to the 20 year jail sentences the men could be fined $250,000 and three years of supervised release. Crossley and Trotman have already pleaded guilty, while Leacock, Vick, and Dunkley were indicted.