PETA to sheriff: Accused cannibal needs vegan diet to 'swear off flesh' in jail
Published time: 25 Sep, 2014 19:27
Edited time: 25 Sep, 2014 19:52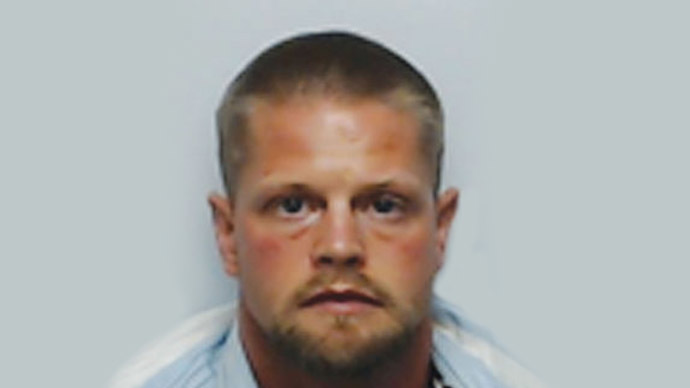 People for the Ethical Treatment of Animals (PETA) wants to punish an accused cannibal with more than just time in jail ‒ the animal rights group wants the local sheriff to put the suspected killer on a meatless, vegan diet.
PETA wrote a letter to Acting Clark County (Indiana) Sheriff Brian Meyer Tuesday, asking for Joseph Oberhansley, 33, to be put on the diet to "swear off flesh" while he's imprisoned, the Jeffersonville News & Tribune reported.
Oberhansley was arraigned Monday on charges of breaking into the Jeffersonville, Indiana home of his ex-girlfriend, Tammy Jo Blanton, 46, killing her and abusing her corpse by eating her flesh, according to USA Today.
"Everyone is rightly horrified by Oberhansley's alleged crime of killing a woman and eating her body, but we have to remember that every time we sit down to eat a meal with meat we're also eating someone's body," Kenneth Montville, a spokesperson for PETA said during a phone interview with WHAS Thursday.
"Our appeal to the jail might seem shocking, but we can take a situation like this tragedy and attempt to reduce violence in this world," Montville added.
But Meyer was more appalled than shocked when he received the request.
"When I first saw the letter, I thought it was a cruel joke," he told the News & Tribune. "When I realized it was real, my first thought was to not even respond because it's ridiculous."
The acting sheriff found the proposal to be out of line and obscene, given the nature of the crime.
"It's bad enough when you lose someone to natural causes, let alone dealing with a loss this violent," he told WHAS. "That [PETA] would do this is unfathomable to me. It's insult added to injury. It's unforgivable and they've lost all credibility with me."
"I can't believe they would be so insensitive to the victim and her family," Meyer told CNHI News Service.
The animal rights group is known for its publicity stunts, including erecting a "grill" on a Nashville, Tennessee street and pretending to cook a naked woman, comparing Holocaust victims with animals at a slaughterhouse and dressing up as Ku Klux Klan members to protest the Westminster Dog Show.
PETA's letter noted that other prisons, like Alabama's highest-security prison, William E. Donaldson Correctional Facility, had seen a decrease in violence after switching to vegetarian meals. Montville pointed out that the letter was a good-faith effort to reduce jail costs, as well.
"If Oberhansley did, in fact, kill Tammy Blanton and eat parts of her body, opting to feed him only vegan foods could diminish that bloodlust and might even help protect staff and neighboring inmates," the letter read.
Meyer told WHAS that special diets are offered at the jail, but only based on religion or medical need.
It is not the first time PETA has made such a request. Montville told the News & Tribune that the group wrote a similar letter in a Tennessee murder case. He said that the cannibal aspect of Oberhansley's case made it especially appropriate.
In 2008, the animal rights group sent a letter to the Smith County Sheriff's Jail in Tyler, Texas, asking that 25-year-old Christopher Lee McCuin be placed on a strict vegetarian diet to prevent him from being "involved in any senseless killing" while he's behind bars, PETA Vice President Bruce Friedrich told Fox News at the time.
When McCuin was arrested, "there was a plate of what appeared to be human flesh and a fork on his kitchen table, as well as an ear boiling in water on the stove," Smith County Sheriff J.B. Smith confirmed to Fox News.
After German Armin Meiwes admitted to the 2001 slaughtering, butchering and eating a man he met over the internet, PETA sent him "a vegetarian cookbook and a hamper full of veggie burgers in the hope of converting him to vegetarianism," the San Francisco Gate reported.