'Unbiased witness': DC police to wear body cameras in $1mn pilot program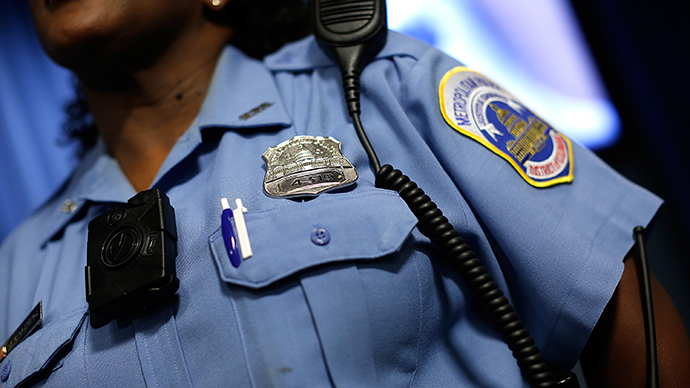 The DC police have announced a million-dollar pilot program that will see 165 officers wear body cameras for six months, with a prospect of the practice embracing the whole of the department in two to three years.
Starting October 1, officers who volunteered to participate will start wearing cameras either attached to the front of their shirts or mounted on sunglasses frames, as displayed at a news conference on Wednesday.

There are five different models, ranging in price from $400 to $700, and the participants of the program will try them in order to single out the most efficient one.
DC officer Debra Domino wears a chest camera - police to launch pilot project. lots of details to be work out. pic.twitter.com/XAsWUGO7X8

— Tom Sherwood (@tomsherwood) September 24, 2014
"This will make our officers safer," said Metropolitan Police Department (MPD) Chief Cathy Lanier, as cited by AP. "It will make our department more transparent. It will reduce the amount of time that supervisors have to spend investigating allegations."
Lanier began looking into the possibility of introducing body cameras for the department more than a year ago, much earlier than the events in Ferguson, Missouri, took place. Still, the incident was mentioned by the Mayor Vincent Gray as an illustration of situations in which the devices could be particularly useful.
Could also see them in sunglasses pic.twitter.com/fEdzD95gFH

— John Domen (@JDonWNEW) September 24, 2014
"Especially since the unfortunate incidents in Ferguson, Missouri, have brought the issue of body cameras to national attention, I'm proud that MPD will continue to show leadership in this area," Gray said.

The police chief said she expected the number of complaints about police actions to decrease as much as 80 percent as soon as an officer is equipped with an on-body camera, which she described as "an independent, unbiased witness."

The city's police union also believes introduction of body cameras will lead to a reduction in the number of complaints.

"In all jurisdictions where this has been implemented, complaints against police officers have been reduced," union chairman Delroy Burton said. "It also enhances officer safety. People behave differently when they know they're being recorded."

The department is planning to keep the videos for three months and then destroy them in case they aren't needed for an investigation. Citizens will be able to obtain the recordings through Freedom of Information requests.