'Polar bear' arrested at #FloodWallStreet protest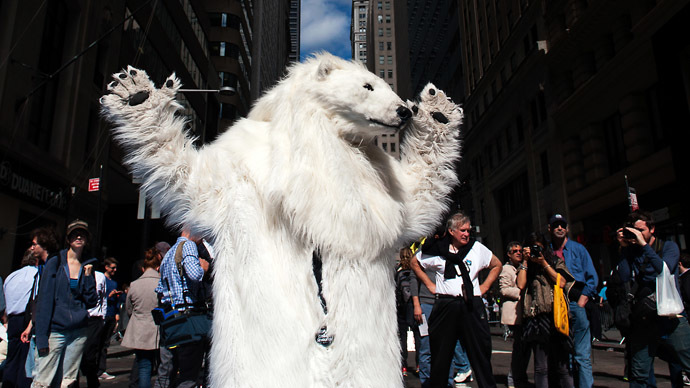 New York police arrested the most conspicuous of the Flood Wall Street protest participants - man wearing a polar bear costume. The episode, caught on camera, has gone viral on social media and has grown into one of the protest's highlights.
Flood Wall Street ends with mass arrests after day-long protest (PHOTOS)
Pictures of 'Frostpaw the Polar Bear' being handcuffed and taken away by police have taken Twitter by storm.
Police have arrested the polar bear #FloodWallStreetpic.twitter.com/jKq7byFUxG

— Jordan Mammo (@jordanmammo) September 22, 2014
Social media users say protesters booed police when it was in the process of arresting a man dressed as a bear, chanting "Don't arrest the polar bear!"
#FloodWallStreet: NYPD arrest and cuff #Frostpaw the Polar Bear. [Image via @CenterForBioDiv] pic.twitter.com/UpWNMqnOYR

— Anonymous (@AnonyOps) September 23, 2014
Frostpaw was one of a hundred protesters arrested during a sit-in rally in Wall Street on Monday night.
The Polar Bear is actually a mascot of the Center for Biological Diversity. The group's Twitter account identified the man in the Frostpaw suit as the center's co-founder, Peter Galvin.
#Frostpaw and @KieranSuckling arrested at #FloodWallSreet standing for nonviolent action for a livable #climatepic.twitter.com/wuCYQJ6pq1

— Center for Bio Div (@CenterForBioDiv) September 22, 2014
The Wall Street sit-in came a day after a New York City staged the world's 'biggest ever' climate change march, in which 310,000 people took part.
Odd couple? #FloodWallStreetpic.twitter.com/GD22gN6STL

— Jordan Mammo (@jordanmammo) September 22, 2014
The Flood Wall Street event – with 2,000 participants - had an aim of highlighting the role of big business in damaging the environment.
@nypmetro@nypost@ChadRachman I am an attorney and I will represent that polar bear for free!!!

— Michael Rosenzweig (@TheMikeRosen) September 23, 2014
@nypmetro@nypost@ChadRachman did he give everyone a Coke?

— FrawdDawg (@PeterJ1955) September 23, 2014